Verboticism: Festinfatuate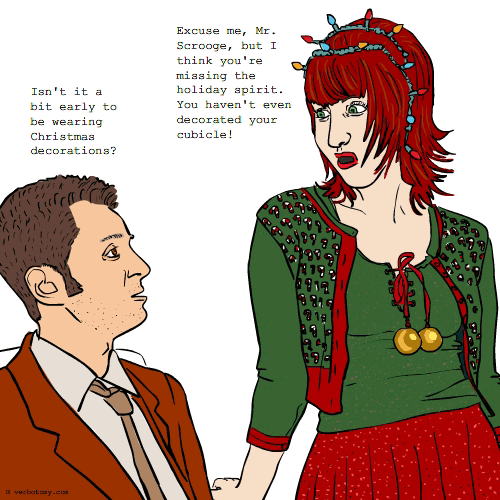 DEFINITION: n., A person so enamored with the holidays that they don't just deck their halls and home, but they also decorate their car, their cubicle, their pets, and themselves. v., To obsessively decorate according to seasonal holidays.
Already Voted
Vote not counted. We have already counted two anonymous votes from your network. If you haven't voted yet, you can login and then we will count your vote.
---
Festinfatuate
You still have one vote left...
Created by: MichaelCampbellUK
Pronunciation: fes-kwe-nox-a-fre-nic
Sentence: Ursula's fesquinoxaphrenia drove her like some crazed clockwork squirrel to stockpile the seasons baubles.
Etymology: Fes- (from festive) -quinox (from equinox, a seasonal event) -aphrenia (hebaphrenia, mental illness characterised by extreme hoarding). See 'fesquinoxafrenic' N.
Created by: sanssouci
Pronunciation: ah deck shone
Sentence: "I did not want to seek help for my addection because it did not feel like a problem. Christmas was such a wondeful time of year so what if people thought I was way too obsessed with geting the christmas decs up everywhere! "
Etymology: combination of addiction and decoration Addiction - the state of being enslaved to a habit or practice or to something that is psychologically or physically habit-forming, as narcotics, to such an extent that its cessation causes severe trauma. Decoration - The act, process, technique, or art of decorating.
Created by: Nosila
Pronunciation: dek a dent
Sentence: Merry Yule is a self-proclaimed deckadent. She starts gathering her Christmas Kitsch in October and by December her home,vehicle,office, pets and person are covered in greens & reds, candy canes, bells and holly. When she looks for a new home, the first thing she asks is, "Where can I put the Christmas Tree?" She gets so excited waiting for Santa, no one has the heart to tell her he's not real...
Etymology: Decadent (a person who has fallen into a decadent state (morally or artistically); marked by excessive self-indulgence)& & Decorate (make more attractive by adding ornament, colour, etc.)& Deck (to decorate;to be beautiful to look at)
Created by: Daniel999
Pronunciation: Dekorachonst
Sentence: As a decorationist, she was approached throughout the year for various decorative ideas.
Etymology:
Created by: rombus
Pronunciation: jing - oh - low
Sentence: Stuart had turned into a complete jingolo. There were holiday bells of all sorts everywhere....both at work and at home. He just couldn't stop hanging them as he was sooo into the spirit this year. They were hanging from the doors, halls, walls, cubicles, phones, file cabinets, bathroom fixtures, refrigerator and copy machine....and those were just some of the ones he had adorned the workplace with!
Etymology: Jingle (from jingle bells) Gigolo (a dissolute person; usually a man who is morally unrestrained).... In combination, unrestrained jingle bells
----------------------------
COMMENTS:
Exceptional. A real bellringer that is a-pealing. - silveryaspen, 2008-12-09: 12:13:00
I'm just a jingolo and everywhere I go, I spread joy and mistletoe...cute word - Nosila, 2008-12-09: 23:18:00
good one - OZZIEBOB, 2008-12-13: 16:13:00
----------------------------
Created by: Mustang
Pronunciation: San + ta + closs + trik + PHOE + bya
Sentence: Mildred's Santaclaustricphobia had become so severe that her family, coworkers and neighbors had come to dread the Christmas season.
Etymology: Santa Claus + phobia
----------------------------
COMMENTS:
well done! - galwaywegian, 2007-12-03: 07:59:00
----------------------------
Created by: Mustang
Pronunciation: ob-SESS-ohr-ayt
Sentence: Once again, Glendora showed her extreme holiday spirit and went on a crusade to obssesorate everything including phones, the john, and every window in her home, the same in her office and even hung ornaments in the interior of her car.
Etymology: Blend of 'obssess' (to engage in obsessive thinking : become obsessed with an idea) and 'decorate' (to furnish with something ornamental )
Created by: gmlehmann
Pronunciation: holly-add-ickt
Sentence: Everything she did was was related to the holidays. She was a real holiaddict.
Etymology: Holiday + Addict or Addiction
Created by: JusMeLP
Pronunciation: De'CORE' - o - sessive
Sentence: Call me 'Decorosessive', but jus' because you don't appreciate holidays - Don't hate me for being 'In the Spirt' !!!!
Etymology: Decor + Obsessive = a compulsion to Decorate everything during a holiday!!
Created by: mweinmann
Pronunciation: or - nah - max - e - men - tal
Sentence: As I drove through the snowy, picturesque streets of my home town, coming back to spend the holidays with the family, I turned the corner and could see my childhood home. My mom had gone all ornamaximental again. Our home cast a halo of light which could be seen over the top of the hill. There must have been 20,000 lights everywhere, inluding trees, bushes, lawn decorations and even figurines on the roof. It was the same way when I was a kid. Our house glowed for Halloween, Thanksgiving, Easter, July 4th and sometimes even Valentine's Day.
Etymology: This word has several other words incorporated. Ornamental has maxi inside of it. Also, ornate and ornament are prefixes. In the middle are max, maximum. Also as a suffix, mental can be added to signify someone who is a bit "over the top". Ornate (elaborately ornamented, often to excess; flashy, flowery or showy) Ornament, Ornamental (a decoration, serving the purpose of decoration or beauty ) + Maximum (the largest possible quantity) + Mental (Mind, the collective aspects of intellect and consciousness, affected by a disorder of the mind)
----------------------------
COMMENTS:
Very nice etymology, especially the mentality of it all. - silveryaspen, 2008-12-09: 11:04:00
Maximental sentimental! Great word - Nosila, 2008-12-09: 23:15:00
----------------------------