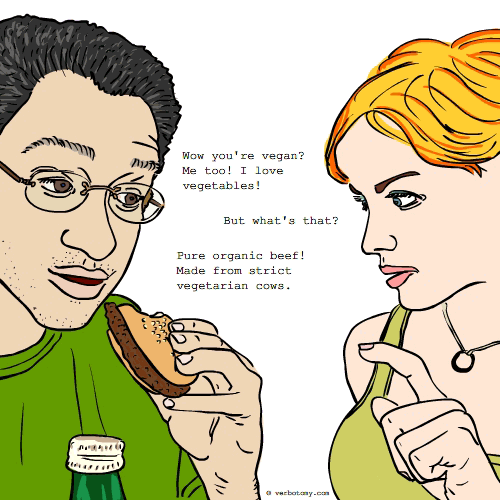 DEFINITION: v., To pretend that you like something that you don't, in hopes that someone else will like your pretensions. n., A person who doesn't like what they actually like, and pretends to like what other people like.
Voted For: Fadtuous
Successfully added your vote For "Fadtuous".
You still have one vote left...
Created by: Jabberwocky
Pronunciation: fahn/duh/men/ta/list
Sentence: Stu was a flagrant fawndamentalist, famous for fakery.
Etymology: fawn (ingratiate) + fundamentalist (die-hard enthusiast)
Created by: leemarquis
Pronunciation:
Sentence:
Etymology:
Created by: artr
Pronunciation: mētoōmētoō
Sentence: Sheldon is a confirmed metoometoo. He has no opinions to call his own. Maybe it is his Swiss upbringing but he steadfastly remains neutral on every topic you could mention. He is great at collecting facts but somehow never gets to the point of deciding what he thinks. In a clear case of "whichever way the wind blows" any opinion expressed gets an immediate concurrence and cascade of supporting facts.
Etymology: me (used by a speaker to refer to himself or herself as the object of a verb or preposition) + too (in addition; also) slightly derived from Star Wars droid R2D2.
Created by: MissJones
Pronunciation: Brocc - as in 'broccolli Lick - as in 'lick'
Sentence: I brocclicked my way through that meal. Tofu? Argh!
Etymology:
Created by: mweinmann
Pronunciation: Role-Doo-Play
Sentence: I easily fit into any group that I travel in because I practice roleduplay. I duplicate other's opinions and preferences. This is all a sham. I am a master at role-playing. I am definitely a roleduplayer with a great deal of experience in roleduplay!!
Etymology: This word uses role-play and inserts the first part of the word "duplicate" in the middle.
Created by: OZZIEBOB
Pronunciation: Gli-BOH-guhs-EE-tee
Sentence: With Roxie following a diet consisting only of wheat grass, fruit and mineral water, Bob cunningly padulated with glibogusity its benefits, while surreptitiously breakfasting on steak, sausages and chips - organic, of course - at Padoulis' "Parthenon" Cafe.
Etymology: GLIB: readily fluent, often thoughtlessly, superficially, or insincerely so: a glib talker; glib answers & BOGUS: not genuine; counterfeit; spurious; sham; shallow; and ITY: state, condition
----------------------------
COMMENTS:
Cute. Fun to say. - Mustang, 2008-10-24: 07:46:00
----------------------------
Created by: looseball
Pronunciation:
Sentence:
Etymology:
Created by: sipsoccer
Pronunciation: (Pre-guys)
Sentence: His preguise was not noticeable when he ate the soy burger.
Etymology: pre- 'pre'tend guise-dis'guise'
Created by: Bullwinkle
Pronunciation: Omee-toot'er
Sentence: He didn't want to hurt her feelings so he ometootered her.
Etymology: Oh Me too!