Vote for the best verboticism.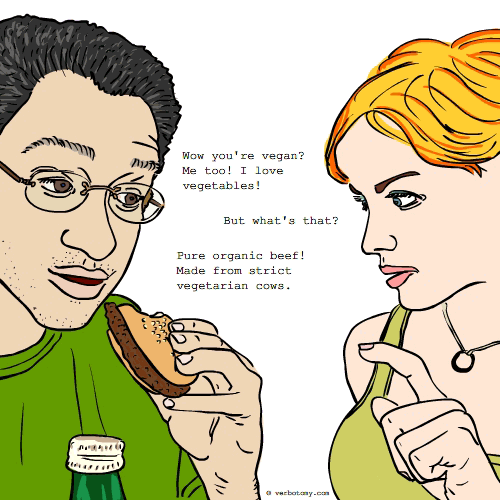 DEFINITION: v., To pretend that you like something that you don't, in hopes that someone else will like your pretensions. n., A person who doesn't like what they actually like, and pretends to like what other people like.
Verboticisms
Click on each verboticism to read the sentences created by the Verbotomy writers, and to see your voting options...
You have two votes. Click on the words to read the details, then vote your favorite.
Created by: Nosila
Pronunciation: mas ker ee ter
Sentence: When Sue Doe met Shammy Davis Junior at a society cocktail party, he was sampling escargots, grenouilles and caviar with great zeal. Although she pretended to be worldly, she had never tried these delicacies either. Shammy was actually a masquereater and hated the taste of these new flavors. She commented on how savvy he was to dine on snails, frog legs and fish eggs, at which point his lack of knowledge made him pale. She asked him if was going to have some Baked Alaska for dessert. He wondered which part of Alaska they were baking and hoped it was not Deadhorse or Valdez...the former might give him nightmares and the latter might still have an oily taste to it! You can't have your Kake and eat it too. Juneau Nome what I mean?
Etymology: Masquerade (making a false outward show;pretend to be someone or something that you are not) & Eater (someone who consumes food for nourishment). Deadhorse, Valdez, Kake, Juneau and Nome are all towns/settlements in Alaska.
Created by: OZZIEBOB
Pronunciation: PAJ-uh-leyt
Sentence: With Roxie following a diet consisting only of wheat grass, fruit and mineral water, Bob cunningly padulated its benefits, while surreptitiously breakfasting on steak, sausages and chips - organic, of course - at Padoulis' "Parthenon" Cafe.
Etymology: Padulate: blending of adulation & pad, meaning to create a false impression by adding, padding, embellishing, or exaggerating details of your adulation for something.
----------------------------
COMMENTS:
your etymology convinced me - Jabberwocky, 2007-11-28: 15:55:00
----------------------------
Created by: remistram
Pronunciation: feyk-feyv
Sentence: She fakefaved that she liked his dye job and new perm and when he left the room she stuck her finger down her throat as if to barf.
Etymology: fake + favorite
Created by: mweinmann
Pronunciation: Role-Doo-Play
Sentence: I easily fit into any group that I travel in because I practice roleduplay. I duplicate other's opinions and preferences. This is all a sham. I am a master at role-playing. I am definitely a roleduplayer with a great deal of experience in roleduplay!!
Etymology: This word uses role-play and inserts the first part of the word "duplicate" in the middle.
Created by: sipsoccer
Pronunciation: (Pre-guys)
Sentence: His preguise was not noticeable when he ate the soy burger.
Etymology: pre- 'pre'tend guise-dis'guise'
Created by: MissJones
Pronunciation: Brocc - as in 'broccolli Lick - as in 'lick'
Sentence: I brocclicked my way through that meal. Tofu? Argh!
Etymology:
Created by: Mustang
Pronunciation: SO-see-oh-fone-ee
Sentence: Always looking for opportunities to impress dates, employers and influential people, Gilbert has become an absolutely shameless sociophony who would do or say anything be popular.
Etymology: Blend of 'social' and 'phony'
Created by: petaj
Pronunciation: fow-lower
Sentence: Humphrey was a definitely a fauxllower, espousing views that he didn't really possess, just to fit in. But there was no way he could be considered a feignatic.
Etymology: faux + follower
----------------------------
COMMENTS:
LOL! Good one! - TiaJay, 2007-11-28: 05:01:00
a tour de fauxrse! - galwaywegian, 2007-11-28: 05:55:00
----------------------------
Created by: simralotomy
Pronunciation: like-o-pho-bist
Sentence: Some likeophobists are quite popular in our college....they seem to mix up with almost everyone
Etymology: Like combined with o for opposite of phobia
Created by: tsarbomba
Pronunciation: Fill-uh-gog
Sentence:
Etymology: