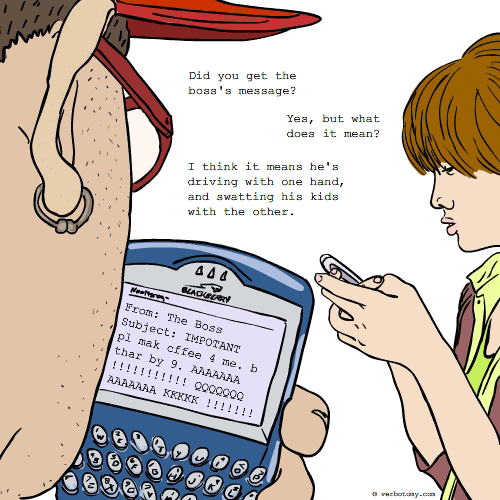 DEFINITION: v., To grasp the meaning of muddled texts like blog posts, emails and text messages where standard grammatical or spelling conventions have been ignored. n., The ability to read and understand confused or poorly written messages.
Already Voted
Vote not counted. We have already counted two anonymous votes from your network. If you haven't voted yet, you can login and then we will count your vote.
---
Intextpret
You still have one vote left...
Created by: hooterbug
Pronunciation: kwûr'kē
Sentence: Fortunately I have one of the new QWERKY keypads on my Crackberry that will decipher whatever I'm texting incorrectly and change it to intelligible English before it is sent. Nothing is worse than poor KEYBONICS!!!!
Etymology: From the proper QWERTY keypad and of course..please practice correct KEYBONICS
----------------------------
COMMENTS:
Who can qwibble with a word like that? - Nosila, 2008-10-14: 20:16:00
Good one, H-bug! - metrohumanx, 2008-10-17: 12:19:00
----------------------------
Created by: xirtam
Pronunciation: krip-tuh-grahsp
Sentence: See if you can cryptograsp what I am typing. "You don't hvae to crroeclty sepll erevyhting jsut hvae all the ltteres, and hvae the fsrit and lsat lteetr in the crreoct poistoin." Pretty cool.
Etymology: crypto from cryptogram, A piece of writing in code or cipher. + grasp, mental hold or capacity; power to understand.
----------------------------
COMMENTS:
Nice! - purpleartichokes, 2007-11-15: 19:00:00
----------------------------
Created by: nerdkiller
Pronunciation: Lawl-cat-ass-tro-fee
Sentence: AYBABTU was a bigger lolcatastrophy than YTMND. A shame since it was, IMHO, the best meme in the history of ever.
Etymology: lolcat: refers to the web meme of mid 2007 catastrophy: a disaster
----------------------------
COMMENTS:
oops I jumped the gun. This has nothing to do with the challenge. I should read directions. - nerdkiller, 2007-11-15: 18:37:00
----------------------------
Created by: Stevenson0
Pronunciation: tex/hume
Sentence: His job was to texhume cryptic messages that had been buried in emails.
Etymology: TEXHUME - verb from TEXT (a unit of connected writing) + EXHUME (to revive, or restore; bring to light)
----------------------------
COMMENTS:
Good word - Nosila, 2008-10-14: 20:14:00
----------------------------
Created by: verbotomer
Pronunciation: ˈiːˌdjuːs
Sentence: "I educed that he meant, 'see you later' when he sent, 'cUL8rrrr11111!!!'"
Etymology: similar meaning to the original educe, but with the stress on the first syllable, modelled on Internet-related words such as email, ebusiness, etc. It can also be spelled 'e-duce'.
Created by: remistram
Pronunciation: di-sahy-fe-text
Sentence: She knew what days to steer clear of her boss, she intuitively could tell how messed up he was by her inability to deciphetext his morning messages.
Etymology: decipher + text
Created by: badsnudge
Pronunciation: ˈlēt-ə-rət
Sentence: "OMG! ure rly noobi5h. lkjlkjlkj" wrote the daughter to her father, which may have otherwise resulted in hurt feelings, but fortunatly, the father was not leeterate (also l33t3r8), and had no idea what she meant, and only figured that there must have been something wrong with her or his phone.
Etymology: l33t + literate.
Created by: hendrixius
Pronunciation: dee-sibe-fur-ing
Sentence: I am having trouble decybphering this text message; WTF does MLFJJUICK 4 NOLK mean?
Etymology: decipher and cyber
Created by: comborracha
Pronunciation: a-sume-a-sife
Sentence: I didn't put enough thought into assumaciphing his message. I didn't realize that "ples get ma bgle t/ cm chee" does not mean please get my mom a bagel with kim chee.
Etymology: assume+decipher
Created by: artr
Pronunciation: dijibər
Sentence: Claire is the perfect personal assistant to Mr. BigPants. She is the only one who can degibber his cryptic e-mails and memos. Most agree that his notes could be created by a chipmunk dancing on a keyboard. They also believe that most of the great ideas that come out of the head office are really generated by Claire. She just smiles and gives credit to her boss.
Etymology: de (denoting removal or reversal) + gibber (speak rapidly and unintelligibly)