Verboticism: Decybphering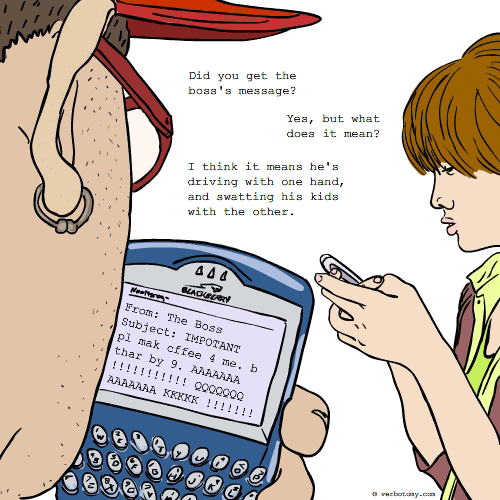 DEFINITION: v., To grasp the meaning of muddled texts like blog posts, emails and text messages where standard grammatical or spelling conventions have been ignored. n., The ability to read and understand confused or poorly written messages.
Already Voted
Vote not counted. We have already counted two anonymous votes from your network. If you haven't voted yet, you can login and then we will count your vote.
---
Decybphering
You still have one vote left...
Created by: looseball
Pronunciation:
Sentence:
Etymology:
Created by: artr
Pronunciation: sīfərfaðəm
Sentence: Harry spent his career breaking coded messages in his job at the NSA. Despite this he has trouble trying to cypherfathom emails and texts from his kids.
Etymology: cypher (a secret or disguised way of writing) + fathom (understand)
Created by: metrohumanx
Pronunciation: dee-JIBBER-cript..........Degibbercrypt is an existing word. (Based a match found for Degibbercrypt found by TheFreeDictionary.)...I find this unlikely, and I stand by my word. -Metro
Sentence: Each dreary morning, Stubbly Stu entered the Temple of Technology where he was employed as an InfoTech specialist. Winter was approaching and the sun's piercing rays bounced off the freshly waxed hallway floors into his tender eyeballs, which had not fully recovered from a gin-soaked weekend of cyber-debauchery. Stunned and amazed, Stubbly Stu saw a cluster of his co-workers gathered in a confused knot and arguing with an intensity usually displayed at a much later, and more humane, time of day. Sookie was waving her Blackberry, Jeff had unholstered his cellfone, and poor low-tech Mark was clutching a crumpled E-mail memo he had printed out, not assigning any reality to something he could not hold in his hand. They all looked up at the same time and saw Stubbly Stu standing there agog. "Stu! Help us!" cried Sookie. "The boss sent out a memo, and we can't figure out if we're all fired or if we're to hurry down to the conference center!" The boss, newly arrived from Red China, stubbornly refused to learn more than the rudiments of Engrish, and regarded punctuation and spelling as a capitalist plot intended to make her "lose face". "Stand back, folks!" Stubbly Stu said with a flourish..." I'm going to DEGIBBERCRYPT this message RIGHT NOW!".....and so he did. They were all fired. :)
Etymology: Fusion of DECRYPT and GIBBERISH.....DECRYPT:transitive verb -to convert (as a coded message) into intelligible form; to recognize and interpret (an electronic signal).....GIBBERISH:unintelligible or meaningless language; a technical or esoteric language; pretentious or needlessly obscure language often generated by pompous or incompetent pseudotechnocrats who have attained positions of power, or think they have.
----------------------------
COMMENTS:
A mind is a terrible thing. http://www.nsa.gov/MUSEUM/ - metrohumanx, 2008-10-14: 02:40:00
Eggzellint! - Mustang, 2008-10-14: 17:21:00
Great story and word! - Nosila, 2008-10-14: 20:15:00
----------------------------
Created by: garythesnail
Pronunciation: Slu-text-i-zhion
Sentence: When her husband sent her an IM, Jane said 'What is this?' Her husband said I have slatextion. It says: Get eggs, coffee and milk at the store, please.
Etymology: Slang+text+suffix "ition"
Created by: rikboyee
Pronunciation: dee-sigh-bah
Sentence: when i texted 'flz 88 grm nb h5g nnzz' to my friend i was confident he would be able to decyber it
Etymology: decipher, cyber
Created by: comborracha
Pronunciation: a-sume-a-sife
Sentence: I didn't put enough thought into assumaciphing his message. I didn't realize that "ples get ma bgle t/ cm chee" does not mean please get my mom a bagel with kim chee.
Etymology: assume+decipher
Created by: hendrixius
Pronunciation: dee-sibe-fur-ing
Sentence: I am having trouble decybphering this text message; WTF does MLFJJUICK 4 NOLK mean?
Etymology: decipher and cyber
Created by: lumina
Pronunciation: jum/bl/gi/a
Sentence: The new boss seemed to have his own language when it came to texting. At first everyone was nervous. It wasn't until someone made a call down to the mailroom where Simon the jumbleguya worked. He could unscramble eggs.
Etymology: play on Jambalaya
----------------------------
COMMENTS:
Twenty lashes with a wet noodle, Lumina. - metrohumanx, 2008-10-14: 02:34:00
Youch! (mix of Yummy and Ouch) :) - lumina, 2008-10-14: 10:04:00
great word - Jabberwocky, 2008-10-14: 13:20:00
----------------------------
Created by: Nosila
Pronunciation: dee sye for
Sentence: Once again Nancy had to try and decode her boss's text message. She always hoped her hunky boss would find her as attractive as she found him and send her a personal message. So far she could only dsighfor his texts, which all seemed to be business related. It did not help that he was such a poor speller and tended to multitask while texting her instructions. The latest message was especially confusing. "Gout 4 drinks? Call" She didn't know if she should pretty herself up and make reservations or call his doctor to make an appointment...
Etymology: Decypher (convert code into ordinary language;read with difficulty) & Sigh For (an utterance made by exhaling audibly; indicating anxiety about one's emotional attachment for someone)
Created by: nerdkiller
Pronunciation: Lawl-cat-ass-tro-fee
Sentence: AYBABTU was a bigger lolcatastrophy than YTMND. A shame since it was, IMHO, the best meme in the history of ever.
Etymology: lolcat: refers to the web meme of mid 2007 catastrophy: a disaster
----------------------------
COMMENTS:
oops I jumped the gun. This has nothing to do with the challenge. I should read directions. - nerdkiller, 2007-11-15: 18:37:00
----------------------------