Verboticism: Decyberscate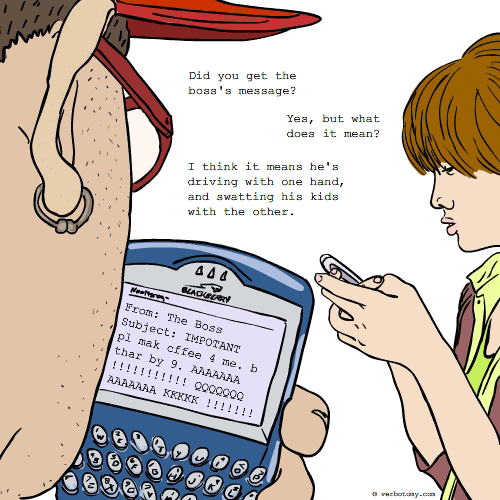 DEFINITION: v., To grasp the meaning of muddled texts like blog posts, emails and text messages where standard grammatical or spelling conventions have been ignored. n., The ability to read and understand confused or poorly written messages.
Already Voted
Vote not counted. We have already counted two anonymous votes from your network. If you haven't voted yet, you can login and then we will count your vote.
---
Decyberscate
You still have one vote left...
Created by: lumina
Pronunciation: jum/bl/gi/a
Sentence: The new boss seemed to have his own language when it came to texting. At first everyone was nervous. It wasn't until someone made a call down to the mailroom where Simon the jumbleguya worked. He could unscramble eggs.
Etymology: play on Jambalaya
----------------------------
COMMENTS:
Twenty lashes with a wet noodle, Lumina. - metrohumanx, 2008-10-14: 02:34:00
Youch! (mix of Yummy and Ouch) :) - lumina, 2008-10-14: 10:04:00
great word - Jabberwocky, 2008-10-14: 13:20:00
----------------------------
Created by: solocard
Pronunciation: bayb-lol-fish-cayt
Sentence: Even though Jimmy was adamant that his texts were easily understood, it took a while before his parents were able to babelolfishcate his messages.
Etymology: From the term "Babel Fish", mixed with internet speak. Other usages include Babelwtfish.
----------------------------
COMMENTS:
Got give a vote for a HGTTG reference - petaj, 2007-11-16: 06:51:00
----------------------------
Created by: comborracha
Pronunciation: a-sume-a-sife
Sentence: I didn't put enough thought into assumaciphing his message. I didn't realize that "ples get ma bgle t/ cm chee" does not mean please get my mom a bagel with kim chee.
Etymology: assume+decipher
Created by: hooterbug
Pronunciation: kwûr'kē
Sentence: Fortunately I have one of the new QWERKY keypads on my Crackberry that will decipher whatever I'm texting incorrectly and change it to intelligible English before it is sent. Nothing is worse than poor KEYBONICS!!!!
Etymology: From the proper QWERTY keypad and of course..please practice correct KEYBONICS
----------------------------
COMMENTS:
Who can qwibble with a word like that? - Nosila, 2008-10-14: 20:16:00
Good one, H-bug! - metrohumanx, 2008-10-17: 12:19:00
----------------------------
Created by: Nosila
Pronunciation: kode depen dent
Sentence: When Marnie's boss acquired a PDA device, she had to transcribe his peculiar messages. She became so good at deciphering his notes that she developed a codedependent ability to read any bizarre messages anywhere and make sense of them. Now she was having trouble going back to reading books with straightforward language...they were no longer a challenge to her intellectually.
Etymology: Code (a coding system used for transmitting messages requiring brevity or secrecy;a process to convert ordinary language into code and vice-versa & Dependent (of a clause; unable to stand alone syntactically as a complete sentence) & Wordplay on Co-Dependent (mutual dependence)
Created by: verbotomer
Pronunciation: ˈiːˌdjuːs
Sentence: "I educed that he meant, 'see you later' when he sent, 'cUL8rrrr11111!!!'"
Etymology: similar meaning to the original educe, but with the stress on the first syllable, modelled on Internet-related words such as email, ebusiness, etc. It can also be spelled 'e-duce'.
Created by: Jabberwocky
Pronunciation: text/cav/ay/tor
Sentence: When archaeologists unearth blackberries in the future they will need textcavators to decipher the messages.
Etymology: excavator + text
----------------------------
COMMENTS:
Cute word...I dig it. - Nosila, 2008-10-14: 20:13:00
----------------------------
Created by: hendrixius
Pronunciation: dee-sibe-fur-ing
Sentence: I am having trouble decybphering this text message; WTF does MLFJJUICK 4 NOLK mean?
Etymology: decipher and cyber
Created by: badsnudge
Pronunciation: ˈlēt-ə-rət
Sentence: "OMG! ure rly noobi5h. lkjlkjlkj" wrote the daughter to her father, which may have otherwise resulted in hurt feelings, but fortunatly, the father was not leeterate (also l33t3r8), and had no idea what she meant, and only figured that there must have been something wrong with her or his phone.
Etymology: l33t + literate.
Created by: thegoatisbad
Pronunciation: di-a-leh-xt
Sentence: "OMG" never flashed through Kimberly's mind the way it flashed through the fingers of her niece, Destiny on the popular social networking site, facespace. Having joined in order to seal her place as the cool aunt, she had been frustrated by her inability to understand the dialext. LOL did not mean "lots of love" nor did MILTF mean "My independent life that's full" and this lead to many misunderstandings.
Etymology: dialect (language specific to a group or region) + text (hint: you're reading it)
----------------------------
COMMENTS:
vg - Nosila, 2010-03-11: 22:49:00
----------------------------