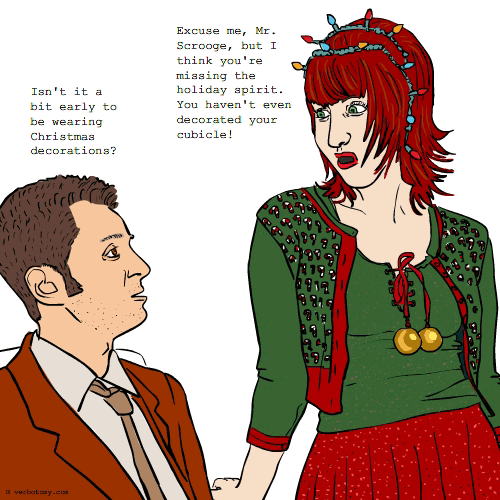 DEFINITION: n., A person so enamored with the holidays that they don't just deck their halls and home, but they also decorate their car, their cubicle, their pets, and themselves. v., To obsessively decorate according to seasonal holidays.
Already Voted
Vote not counted. We have already counted two anonymous votes from your network. If you haven't voted yet, you can login and then we will count your vote.
---
Deckadent
Pronunciation: dek a dent
Sentence: Merry Yule is a self-proclaimed deckadent. She starts gathering her Christmas Kitsch in October and by December her home,vehicle,office, pets and person are covered in greens & reds, candy canes, bells and holly. When she looks for a new home, the first thing she asks is, "Where can I put the Christmas Tree?" She gets so excited waiting for Santa, no one has the heart to tell her he's not real...
Etymology: Decadent (a person who has fallen into a decadent state (morally or artistically); marked by excessive self-indulgence)& & Decorate (make more attractive by adding ornament, colour, etc.)& Deck (to decorate;to be beautiful to look at)
Points: 485