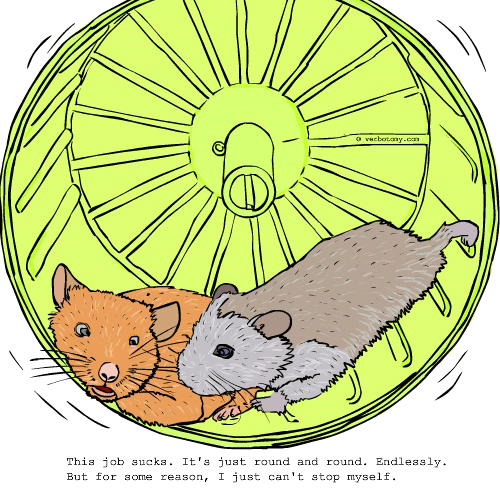 DEFINITION: n., A person who diligently and persistently complains about their work. v., To enjoy bellyaching about your job so much that you would never consider quitting.
Whinaholic
Top verboticism of the day created by Stevenson0
Pronunciation: whin-a-hol-ic
Sentence: My boss is a major whinaholic about his job. Our hours are 8:30 - 5:00, but he arrives at 7:30 and leaves at 5:30 so he can smooze and cruise with the staff, but never stops bitching about all that he has to do.
Etymology: WHINAHOLIC - noun - from WHINE (snivel, or complain in a self-pitying way) + WORKAHOLIC (One who has a compulsive and unrelenting need to work)
Created by: Stevenson0.
More Top Verboticisms:
(Invented words created by the Verbotomy Writers)
Occupulation: /ock-yew-pule-AY-shun/ Reginald griped and complained so often and so long at work that most folks realized that whining had become his ocupulation, a fact that had many of them wishing he'd take his skills elsewhere. Etymology: Blend of 'occupation' (a person's usual or principal work or business) and 'pule' (whine) Created by: Mustang.
Jobsmartyr: /Jobs-mart-er/ Henry was such a jobsmartyr, he would endessly moan about the amount of of work he was left to do, his long suffering workmates were however not impressed, as they knew that secretly he was dreading the fact that he was rapidly approaching retiring age. Etymology: Job(a paid position of regular employment) + Martyr(a person who exaggerates their difficulties in order to gain sympathy or admiration) = Jobsmartyr Created by: TJayzz.
Colleave: /kol-leev/ It was bad enough that my desk was moved away from window with the gorgeous city view. I now had to endure working side by side with Ken, the company's colleave. Everyday it was the same. Ranting, whining, threatening and the packing and unpacking of his personal belongings, only to then have to "smile and wave" at the end of the day as he said "Another day another dollar. See you tomorrow." Etymology: colleague + leave Created by: lumina.
More...
To see more verboticisms for this definition go to: This job sucks, but I love it...
More Winning Words:
More Verboticisms! See the winning words for: That skirt is way too short!