Vote for the best verboticism.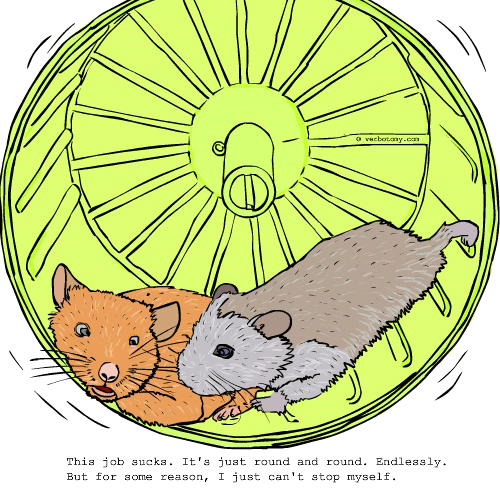 DEFINITION: n., A person who diligently and persistently complains about their work. v., To enjoy bellyaching about your job so much that you would never consider quitting.
Verboticisms
Click on each verboticism to read the sentences created by the Verbotomy writers, and to see your voting options...
You have two votes. Click on the words to read the details, then vote your favorite.
Created by: TJayzz
Pronunciation: Jobs-mart-er
Sentence: Henry was such a jobsmartyr, he would endessly moan about the amount of of work he was left to do, his long suffering workmates were however not impressed, as they knew that secretly he was dreading the fact that he was rapidly approaching retiring age.
Etymology: Job(a paid position of regular employment) + Martyr(a person who exaggerates their difficulties in order to gain sympathy or admiration) = Jobsmartyr
Created by: MrDave2176
Pronunciation: occu-PISS-shun
Sentence: Manny's occupission as PA in Hollywood was to be everyone's bitch and he complained about it constantly. But when confronted with quitting he always asserted, "And leave show business?"
Etymology: Occupation + Piss (as in piss and moan)
Created by: Stevenson0
Pronunciation: whin/a/hol/ic
Sentence: My boss is a major whinaholic about his job. Our hours are 8:30 - 5:00, but he arrives at 7:30 and leaves at 5:30 so he can smooze and cruise with the staff, but never stops bitching about all that he has to do.
Etymology: WHINAHOLIC - noun - from WHINE (snivel, or complain in a self-pitying way) + WORKAHOLIC (One who has a compulsive and unrelenting need to work)
Created by: artr
Pronunciation: sisəfəs (just like the real word)
Sentence: George was such a Sisyfuss. He complained about getting to work. He complained about being at work. He complained about the work he did. He complained about the trip home. While at work he complained about his home life. He not only rolled that big rock up the hill, he pushed it down again trying to take out as many others as possible as it went down. Some say he is able to keep his youthful appearance because he never uses the muscles in his face that are required for smiling.
Etymology: Sisyphus (the son of Aeolus, punished in Hades for his misdeeds in life by being condemned to the eternal task of rolling a large stone to the top of a hill, from which it always rolled down again) + fuss (show unnecessary or excessive concern about something)
----------------------------
COMMENTS:
hillarious! - galwaywegian, 2008-09-16: 06:30:00
Great job! - hooterbug, 2008-09-16: 07:26:00
----------------------------
Created by: OZZIEBOB
Pronunciation: JIB-dohl
Sentence: With a yearning to occuplague rather than be occupied, and to jibdole rather than job-do, Bob's beefs were legendary. And he certainly wasn't a workhorse, more a worknag. It seemed the thrill for him each day at work was that he was the office occuprick.
Etymology: Blend of JIB: One who sidesteps, hangs back, shirks the issue; JOB: work, employment & DOLE: Payment to the unemployment; 2. lament, lamentation, woe, grey-in-mood, gloom.
Created by: kimbo123
Pronunciation: whine-o-worker
Sentence: He goes to work everyday, but is such a whinoworker to his fellow employees.
Etymology:
Created by: pendraghon
Pronunciation: ə-ˈsō-shē-o-ˈkras
Sentence: The Associacrass of the month award goes to Jason Hill, the bearer of the water cooler, and the HR latrine lawyer of ABC, Inc.
Etymology: associate- 1: one associated with another: as a: partner, colleague b: companion, comrade 2 a: an entry-level member (as of a learned society, professional organization, or profession) b: employee, worker3often capitalized : a degree conferred especially
Created by: Nosila
Pronunciation: nok u pay shun
Sentence: Teddy had found his true Knockupation in life. He was a restaurant critic and described his gourmet adventures in the local rag. He took his title "Critic" to heart and never had anything good to say about anywhere he dined. Not only did the food and service not please him, he bad-mouthed his job to anyone who would listen. He complained about the food, the deadlines he had to file his reviews, the pending slander lawsuits from restaurants he reviewed and the fact that he was the only one in town with any sense of taste, style or epicurean knowledge. The fact that all this horrible food had added many inches to his girth was another source of complaint. If the food was really that bad, why did he clean his plate everytime and even ask for more? The reality was that this position knockupied all his waking hours and he could not imagine doing anything else!
Etymology: Knock (negative criticism) & Occupation (the principal activity in your life that you do to earn money; any activity that occupies a person's attention )
----------------------------
COMMENTS:
As usual, an excellent little parable. - metrohumanx, 2008-09-16: 02:12:00
A winner for sure! And I will admit, if I was dining near him I might have to fight the urge to sockupy him. :) But that's just me. *giggle* - lumina, 2008-09-16: 22:50:00
If you're an actor, is it a mockupation? Is a jet pilot a machupation? Does Bon Jovi have a rockupation? Is being a longshoreman a dockupation? Is an electrician a shockupation? Is Teaching a chalkupation? Is being a cop a glockupation? Do the people at Lego have blockupations? Does a hairstylist or a security guard have a lockupation? Is being a lecturer a talkupation? Is a shepherd a flockupation? Is a symphony conductor a Bachupation? Is being an athlete a jockupation? Is a Chinese Restaurant owner a wokupation? Somebody stop me...please! - Nosila, 2008-09-17: 00:34:00
----------------------------
Created by: Nosila
Pronunciation: whyne stew ard
Sentence: It was enough to make one blush. Sam Gria was a consumant whinesteward. Although he loved his job serving the best wines to the richest people, he never failed to find a riesling to complain. Although he mulled over his circumstances all the time, he never failed to pinot his hopes on changing his bubbly career. For the sake of his varietal sanity, he thought of moving to Cork or the Rhine or Burgundy, but he lost his bottle. It was claret he'd always finish where he was, if he would only mature. He married Rosé,settled in Bordeaux, was always in hock and watched Magnum PI re-runs on TV most nights.
Etymology: Whine (moan, complain) & Steward (attendant) plus Wordplay on Wine Steward (someone who suggests and serves wine)
Created by: Lolagrrl
Pronunciation: piss-n-moan-eh-vay-tor
Sentence: Terry has been with the company for 13 years now. Nobody's really sure what her job is other than pissinmoanivating everyone about her boss.
Etymology: "Piss and Moan" + "Motivate"