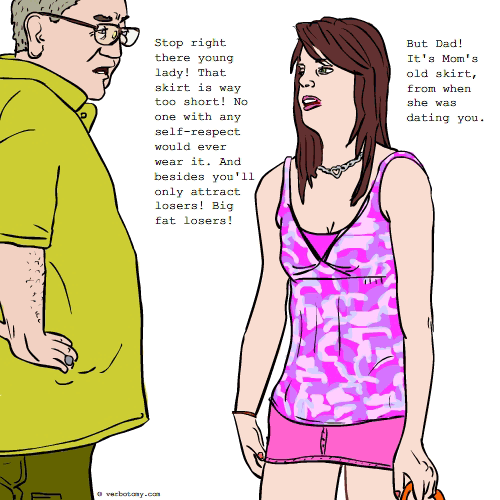 DEFINITION: n., A fashion item so old that it has gone out of and come back into style. v., To save outdated clothing hoping that it will come back into style.
Decawear
Top verboticism of the day created by thebaron
Pronunciation:
Sentence: The drag queen had a closet full of decawear, hoping someday she could wear her old favorites on stage again.
Etymology:
Created by: thebaron.
More Top Verboticisms:
(Invented words created by the Verbotomy Writers)
Nostalchic: /nah-stal-sheek/ Jenny's closet is full of nostalchic items from the '60's and '70's which she wears every day. Etymology: NOSTALCHIC - from NOSTALGIC (a sentimental yearning for the happiness of a former time) + CHIC (attractive and fashionable; stylish) Created by: Stevenson0.
Clutureless: /klu-ture-less/ Although she'd been a fashion diva in her youth, she was clutureless when it came to current trends. Etymology: Blended word: "couture" (high fashion) blended with "clueless" (uninformed; ignorant) Created by: LoftyDreamer.
Retrousseau: /reh tro ooh SO/ My mother bribed me to help her clean out her basement by saying that I could take whatever I wanted. I found what amounted to a retrousseau of the 80's clothes that she wore in college. Although I wasn't interested in wearing any of them, I knew they would be valuable to someone. Sure enough, the vintage clothing store gave me $300! Etymology: retro + trousseau (collection of clothing) Created by: karenanne.
More...
To see more verboticisms for this definition go to: That skirt is way too short!
More Winning Words:
More Verboticisms! See the winning words for: This may hurt a little. So tell me, how are your kids?