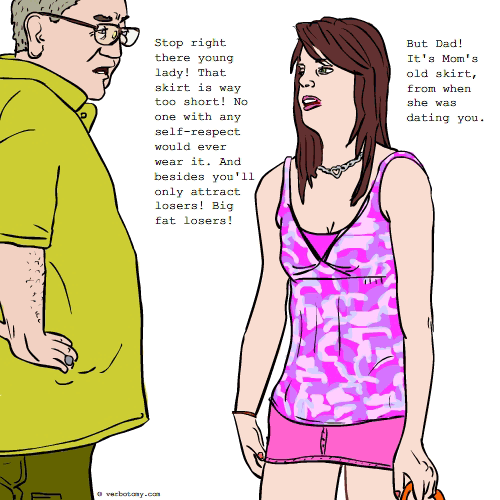 DEFINITION: n., A fashion item so old that it has gone out of and come back into style. v., To save outdated clothing hoping that it will come back into style.
Decawear
Top verboticism of the day created by thebaron
Pronunciation:
Sentence: The drag queen had a closet full of decawear, hoping someday she could wear her old favorites on stage again.
Etymology:
Created by: thebaron.
More Top Verboticisms:
(Invented words created by the Verbotomy Writers)
Nostalchic: /nah-stal-sheek/ Jenny's closet is full of nostalchic items from the '60's and '70's which she wears every day. Etymology: NOSTALCHIC - from NOSTALGIC (a sentimental yearning for the happiness of a former time) + CHIC (attractive and fashionable; stylish) Created by: Stevenson0.
Clutureless: /klu-ture-less/ Although she'd been a fashion diva in her youth, she was clutureless when it came to current trends. Etymology: Blended word: "couture" (high fashion) blended with "clueless" (uninformed; ignorant) Created by: LoftyDreamer.
Pantiques: /pan-teeks/ Dad gave Liz two choices: Mom's crocheted pantiques from the 60's or her knee length poodle skirt from the 50's. No crying or threatening to not come home at all was going to convince him to let her wear mom's micro mini from the 70's. Etymology: pant + antiques Created by: lumina.
Comments:
Every time i scroll thru the weekly results, i see PANTIQUES and laugh out loud. I don't know why- it's just such a funny word. - metrohumanx, 2008-09-15: 02:26:00
Pantastic! - galwaywegian, 2008-09-15: 06:03:00
Like it! - TJayzz, 2008-09-15: 07:17:00
Ok, so I thought I left my "acceptance speech" here but I guess I "commented" it somewhere else...oh well... Thanks to all who voted! :) - lumina, 2008-09-18: 02:30:00
More...
To see more verboticisms for this definition go to: That skirt is way too short!
More Winning Words:
More Verboticisms! See the winning words for: This may hurt a little. So tell me, how are your kids?