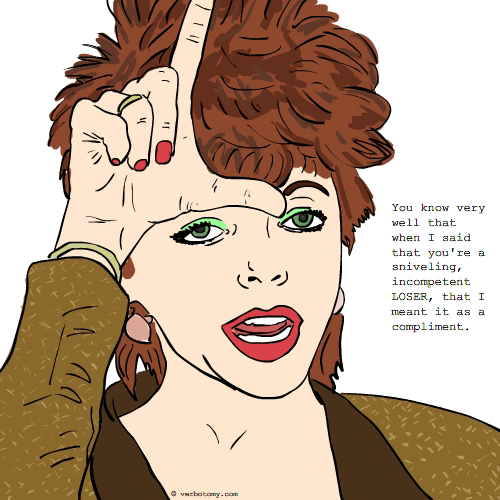 DEFINITION: v. To exercise power through the strategic use of personal insults, while pretending to offer encouragement. n. A leader who motivates people by insulting them.
Leadersnip
Top verboticism of the day created by mweinmann
Pronunciation: lee - dur - snip
Sentence: Patricia knew how to practice leadersnip. This skill was honed over a period of time as a manager in the Marketing Department at Pepper Hill Cosmetics. All good ideas were her own and if someone else started to believe in their writing skills a bit too avidly, Patrice knew how to snip their copy - - and them down to size; thus yielding a better slogan authored by "herself"
Etymology: leader - a person who demonstrates the ability to motivate and manage people. snip - cut, reduce or chide
Created by: mweinmann.
More Top Verboticisms:
(Invented words created by the Verbotomy Writers)
Demeanie: /dee - meen - ee/ Amy was known as a demeanie around the office because she seemed to always find a way to make those around her feel bad about themselves. Her insults were always couched inside of a bit of sweet talk so she got away with it quite a bit..... Etymology: demean (degrade or make one aware of their shortcomings), meanie (a person of mean disposition) Created by: mweinmann.
Comments:
fun word - I'll have to share it with the kids - mrskellyscl, 2010-01-06: 14:17:00
Leaderhosin: /lēdərhōzən/ Whenever folks get too uppity the boss administers a good leaderhosin. Etymology: leader (the person who leads or commands a group, organization, or country) + hose (metaphorical term for screwing someone) a play on Lederhosen Created by: artr.
Comments:
My morning chuckle. Thanks, artr. - mrskellyscl, 2010-01-06: 07:57:00
Dozenator: /duz-en-ate; duz-en-a-tor/ She came on like she was from the hood, street-smart, street-wise, getting it on, taking us down with her tongue. Man, she thought she was original Dozenator, the Queen of Put Downs. But, it was all a show. "Heh, heh...Just jivin' ya," she always said in quick retreat. Etymology: From the slang, "dozens," meaning to put others down + ate/ ator, giving action and/or title Created by: readerwriter.
More...
To see more verboticisms for this definition go to: When I said that you're a loser, I meant it as a compliment.
More Winning Words:
More Verboticisms! See the winning words for: I think this is a game of hide and seek.