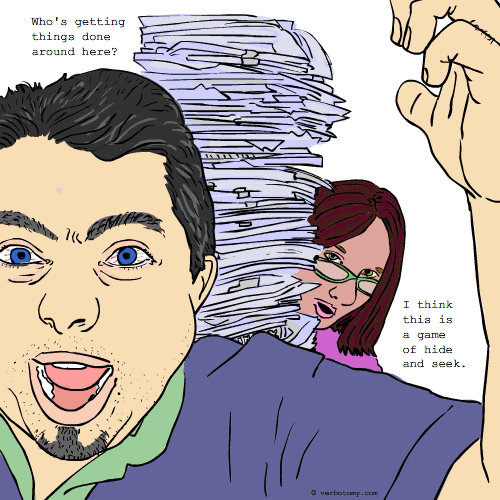 DEFINITION: n. A momentary feeling of relief mixed with lingering dread, which occurs when your boss marches past the piles of unfinished work on your desk. v. To sigh with relief after your boss marches past your desk
Demployment
Top verboticism of the day created by CharlieB
Pronunciation: dem-ploy-ment
Sentence: Neil's fixed stare at his computer screen had fooled his boss once again. He chuckled under his breath at this successful demployment strategy.
Etymology: employment (work, occupation) + deployment (to act strategically, particularly in battle)
Created by: CharlieB.
More Top Verboticisms:
(Invented words created by the Verbotomy Writers)
Ansighety: /an-sigh-e-ty/ Tish worked in a perpetual state of ansighety. Her boss would periodically come storming around the room trying to make sure his people were working hard, but she was trying to get through the day hardly working. The minute he went back into his office she exhaled, pulled her Blackberry out of her pocket and resumed twittering. Etymology: anxiety: state of uneasiness and apprehension + sigh: audible sound of relief Created by: mrskellyscl.
Reslaxation: /ree - slax - sa - shun/ Noreen felt a few moments of reslaxation when she became aware that she had again dodged her boss. He was about to talk to her about the reports that she should have had done that morning but one of the salespersons grabbed his arm and walked away talking with him. Etymology: relaxation, slacks, lax Created by: mweinmann.
Stressurerush: /stresh-er-rush / When the boss is on a rampage looking to yell and dump on someone and my desk is backlogged and piled high, I go into a stressurerush when he storms past. Etymology: stress + pressure + rush Created by: Stevenson0.
More...
To see more verboticisms for this definition go to: I think this is a game of hide and seek.
More Winning Words:
More Verboticisms! See the winning words for: Ooopy goopy poopy poo.