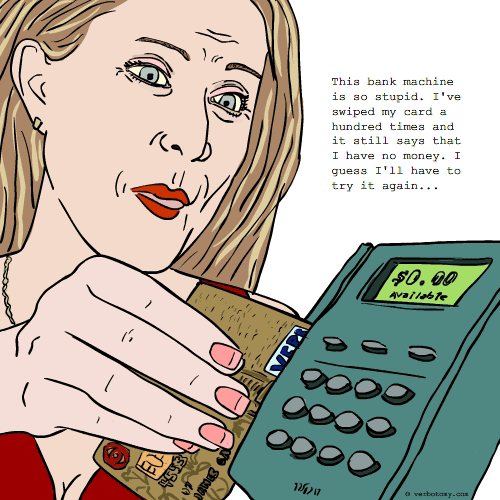 DEFINITION: v., To have the strength of character, persistence of heart, and dimness of wit to follow an unchanging course of action even when it is completely ineffective. n., A person who unhappily does the same thing over and over again.
Redundunce
Top verboticism of the day created by Stevenson0
Pronunciation: ri-duhn-duhns
Sentence: Jenny is a classic redundunce who needs to do things thirty, or forty times before she realizes they don't work.
Etymology: REDUNDUNCE - noun from REDUNDANT (unnecessary repetition) + DUNCE (dull-witted, stupid, or ignorant person)
Created by: Stevenson0.
More Top Verboticisms:
(Invented words created by the Verbotomy Writers)
Morassiduate: /muh-RASS-sij-oo-ate/ Despite his best intentions, Bob morassiduated with morotony. His failure was not his " falling in the mud" but that he remained stuck there! Etymology: Blend of MORON: a person who is notably stupid or lacking in good judgment; or dim of wit; MORASS: any confusing or troublesome situation, esp. one from which it is difficult to free oneself; entanglement- "stuck in the mud" & ASSIDUATE: to be constant in application or effort; diligent in working at a task; to be persevering; Created by: OZZIEBOB.
Comments:
so many good words - Jabberwocky, 2008-09-22: 11:46:00
Repetatwit: /Re-pet-a-twit/ Tom was such a repetatwit that when he dialled a wrong number he would constantly use redial, in the hope of eventually gettng to speak to the right person. Etymology: Repeat(To do or occur in the same way or form) + Twit(A foolish or silly person = Repetatwit Created by: TJayzz.
Invanity: /En - va - nahtee/ Pablo Dominguez III's invanity was unstoppable, despite the team's losing streak of 15 games he insisted it had nothing to do with his unique no goalie coaching strategy. Etymology: Vanity - Insanity (doing the same thing over and over expecting diff results) Created by: Mrgoodtimes.
More...
To see more verboticisms for this definition go to: This bank machine is so stupid.
More Winning Words:
More Verboticisms! See the winning words for: Oh no! I hate it when my husband tries to dress me!