Vote for the best verboticism.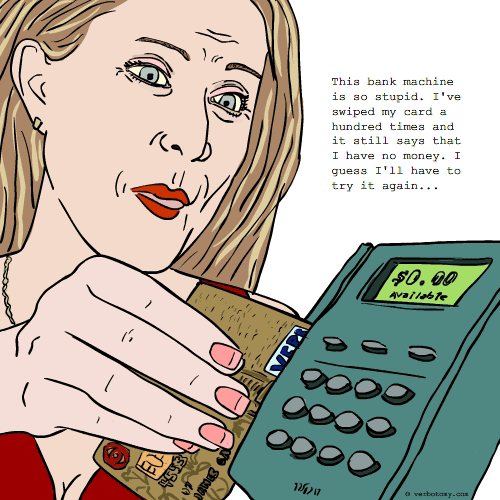 DEFINITION: v., To have the strength of character, persistence of heart, and dimness of wit to follow an unchanging course of action even when it is completely ineffective. n., A person who unhappily does the same thing over and over again.
Verboticisms
Click on each verboticism to read the sentences created by the Verbotomy writers, and to see your voting options...
You still have one vote left...
Created by: Nosila
Pronunciation: soo per floo zee it tee
Sentence: She'd been in the Game for a while and had seen her fortunes take a tumble over the past few years. And yet, each evening she spent hours dolling herself up and putting on provocative clothes to go out and do her job. Twila had earned the nickname Twilight Twila from her co-workers, the cops and the johns she had known. She walked in the area known as the Strip and plied her trade. But for the last few years, business was not booming, if fact many nights none of her gentlemen friends came calling. Still, she got on her see-through blouses,her mini skirts and her war paint before she hit the streets. She walked and walked every night to no avail. The other girls got attention, but never her anymore. Twila was a superflooziety, an underemployed hooker. She was beginning to wonder if her age was a factor...maybe she should start living off those government pension cheques she had been getting in the mail lately. Afterall, she wasn't likely to get a gold watch for her 45 years in this business! And besides, they did not make support hose in a fishnet style...
Etymology: Superfluous (more than is needed, desired, or required) & Floozie (a prostitute who attracts customers by walking the streets)
Created by: Nosila
Pronunciation: re doo do
Sentence: Renate kept blindly trying to get blood out of a stone...or in her case, money out of an empty account. She was a perfect speciman of a redodo. Keewp doing it over and over until you got what you wanted. Sure she had put money in there and sure she had debited her account at every store in town, but she seemed to think that it would automatically replace itself. This is how the redodo's became extinct!
Etymology: Redo (do over) & Dodo (extinct heavy flightless bird;dumb as a dodo bird)
Created by: svnfsvn
Pronunciation: dop timist
Sentence: phil felt like an doptimist while looking at his paycheck
Etymology: dope +optimist
Created by: milorush
Pronunciation: (n.) thĭk-tōō'-ĭt-tĭv-nĭs
Sentence: Margary's refusal to give up on her shiftless, alcoholic, womanizing husband demonstrates the thicktoitiveness of the proverbial moron looking for the corner of a round room.
Etymology: thick = "mentally slow; stupid; dull" + "-toitiveness (suffix from sticktoitiveness = "dogged perseverance; resolute tenacity")
----------------------------
COMMENTS:
brilliant!! - libertybelle, 2007-10-24: 16:25:00
My other word for this definition was "duhtermination." - milorush, 2007-10-25: 10:59:00
----------------------------
Created by: remistram
Pronunciation: ri-rut-oh-kur
Sentence: Jim purposely jammed the new Xerox machine and failed to fix it each time, having to call the technician in and do the dirty work. This was a common rerutoccurance for Jim, part of his daily repertoire on how to successfully annoy his co-workers.
Etymology: reoccur + rut
Created by: xirtam
Pronunciation: gal·lan· tard
Sentence: The gallantard knight returned every day for years trying to pull the sword from the stone.
Etymology: Old French galant + Latin retardāre
Created by: zavijava
Pronunciation:
Sentence: She was sure that the door opened to the outside, that she kept pulling on it, even after her dimtermination gave her a broken nail.
Etymology: dim+determination
Created by: shalla
Pronunciation: more-on-and-on-and-on
Sentence: Jimmy watched the moronandonandon stop, look at the door questioningly, grab the door's handle, and for the fourth time visibly strain to pull it, ignoring the big red letters PUSH splashed across the door's center.
Etymology: moron (an idiot) + on and on and on (to keep going for an extended time)
Created by: leechdude
Pronunciation: bon-brane
Sentence: Shauna went ballistic bonebraining thousands of times to get the lead out of her pencil.
Etymology: bone-head (common term used meant to mean "idiot") insead of head, brain.
Created by: mplsbohemian
Pronunciation: pur-DIHTS-tehns
Sentence: Alex proceeded to call the girl who dumped him with noble perditztence.
Etymology: persistence + ditz