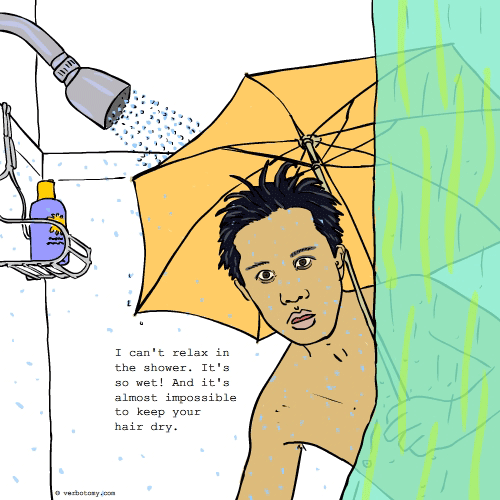 DEFINITION: v. To take a really long, relaxing, shower; so long in fact, that you loose concept of time. n. A prolonged shower that uses up a whole tank of hot water and leaves the bather looking like a boiled raisin.
Spaboiled
Top verboticism of the day created by TJayzz
Pronunciation: Spar-boy-eld
Sentence: Having been gardening all day, Joe decided to take a long hot shower. As the hot water splashed around him he felt like he was being wrapped in a blanket. It felt so good he lost all track of time and ended up spaboiled, emerging looking like an over cooked lobster.
Etymology: Spa(a hot water tub) + boiled(to have been immersed in hot water until cooked) = Spaboiled See Parboiled(boil until nearly cooked)
Created by: TJayzz.
Comments:
very nice - yellowbird, 2009-02-26: 06:36:00
He was no doubt thinking of his long lost girlfriend Sammin Ella...he lobster and never flounder... - Mustang, 2009-02-26: 07:50:00
terrific and love the puns Mustang - Jabberwocky, 2009-02-26: 10:28:00
More Top Verboticisms:
(Invented words created by the Verbotomy Writers)
Sudstained: /suhdz-steynd/ Jerry finds a sudstained shower to be very bathartic. He doesn't seem to understand why his wife gives his practice such a cold shoulder. It might have something to do with the fact that she rarely gets to take a hot shower. Etymology: suds (froth) + sustained (endure without giving way or yielding) Created by: artr.
Waterlolled: /WA ter LOLLD/ I stayed in the shower for so long that I had waterlolled myself in to a wrinkled-prune state, but it felt so good. Etymology: LOLL: to lie or to stand in a lazy, relaxed way WATERLOGGED: so full of water that it cannot hold any more Created by: kateinkorea.
Soakfixture: /sohk fix cher/ After a long tiring day, Lily wilted into her shower seat. Lily looked lovely, wearing nothing but her water beads. She slipped into sleep, not shallow, but ever so deep. Even when the shower bower, now her water bed, was turning into a water cooler, she slept on, for her Lily pads kept her warm. Lily especially enjoyed the water on her knee, and the water on her brain. In her dreams, she sprouted angelic water wings, and took a glide, then came down a heavenly water slide. When she awoke, she swirled and played in some soaksuds. From her soakbox, you could hear Lily, now a soakfixture, speaking ... nay ... 'twas Lily ... singing in the rain. Etymology: SOAK, FIXTURE. Soak - to spend long periods in water. Fixture - 1) One that is invariably present in and long associated with a place. Fixture - 2) permanent plumbing appendages, apparatus, or appliances. Created by: silveryaspen.
Comments:
Lily was a big fan of Gene Kelly! - silveryaspen, 2009-02-26: 02:59:00
It wasn't her Gene that made her sing...it was her chromosoaks... - readerwriter, 2009-02-26: 09:47:00
lovely sentence - Jabberwocky, 2009-02-26: 10:29:00
More...
To see more verboticisms for this definition go to: I just can't relax in the shower
More Winning Words:
More Verboticisms! See the winning words for: Didn't you used to be my Bank Manager?