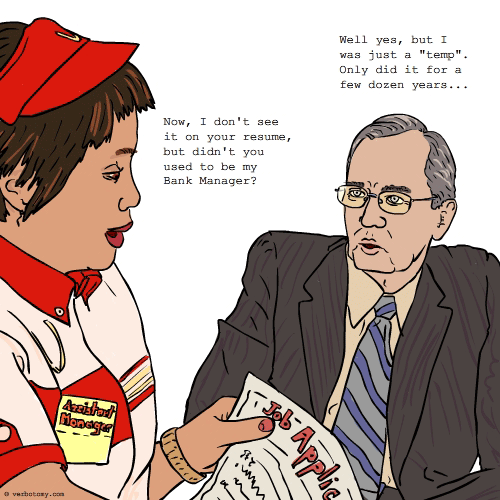 DEFINITION: v. To deny one's accomplishments, or minimize one's abilities in order to obtain a job. n. A resume, or list of qualifications, which has been disembellished and disemboweled to meet extremely low job requirements.
Quashification
Top verboticism of the day created by TJayzz
Pronunciation: Kw-osh-i-fi-kay-shun
Sentence: Having been made redundant from his job at the city stockmarket, Henry had tried for so many jobs that he had lost count. He decided to try quashification and when asked about his previous employment he would tell any future employer that he was nothing more than the tea boy.
Etymology: Quash(prevent from being expressed or becoming public knowledge) + Qualification(a pass of an exam or completion of a course in order to meet the requirements of a certain job) = Quashification
Created by: TJayzz.
Comments:
nice blend - Jabberwocky, 2009-02-25: 14:41:00
More Top Verboticisms:
(Invented words created by the Verbotomy Writers)
Selfeffacting: /cellf-eh-fak-ting/ Downey Outman was so selfeffacting on his resume the Human Resources Manager, Noah Job, could hardly bear (or is it bare?) to read the words printed by hand on the soft double-ply tissues. Etymology: A play on SELFEFFACING, humble or modest using FACT, knowledge or information based on real occurances Created by: readerwriter.
Comments:
very funny - Jabberwocky, 2009-02-25: 14:41:00
Warewithdrawal: /WARE with DRAW eul/ After Bob was laid off from his job and he didn't have the wherewithal to pay his bills, he decided he was too young to retire and needed to get a job. A long time salesman and way overqualified, he found that the wares he had to sell at this point in his life were his lack of credentials rather than his credentials. It became evident that if he worked at it he had the warewithdrawal he needed to undersell his abilities. Etymology: WARE: an asset or product to sell WHEREWITHAL: means to make something happen NONE: WITHDRAWAL: Created by: kateinkorea.
Comments:
terrific - Jabberwocky, 2009-02-25: 14:42:00
Denyigreat: /dee-ny-I-grate/ In these tough economic times the only way I could get a job at the local McDonalds was to denyigreat, which was difficult because I am. Etymology: deny + I + great + denigrate (disparage) Created by: Jabberwocky.
More...
To see more verboticisms for this definition go to: Didn't you used to be my Bank Manager?
More Winning Words:
More Verboticisms! See the winning words for: I've been pre-approved for a new credit card?