Vote for the best verboticism.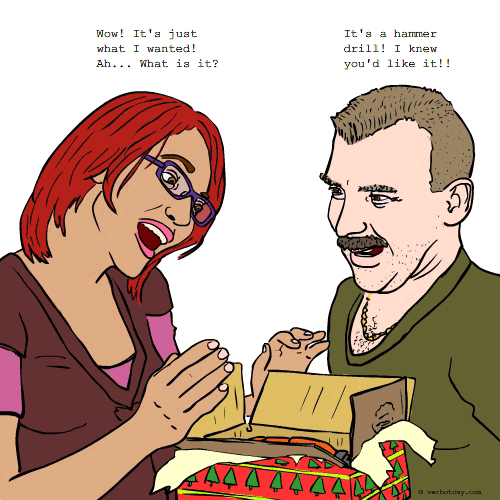 DEFINITION: v., To show appreciation for a gift, even if it is something that you do not really need or want, by feigning joy. n., A faked display of gratitude.
Verboticisms
Click on each verboticism to read the sentences created by the Verbotomy writers, and to see your voting options...
You have two votes. Click on the words to read the details, then vote your favorite.
Created by: magillo
Pronunciation:
Sentence:
Etymology:
Created by: xirtam
Pronunciation: greyt-fuh l-of-it
Sentence: Although Mary said she liked the gift, you could tell from the expression on her face she was gratefullofit.
Etymology: Grateful: warmly or deeply appreciative of kindness or benefits received; thankful. + Full Of It: From "Full of sh**" - dishonest, deceptive.
Created by: OZZIEBOB
Pronunciation: gif-tree-ON-iks
Sentence: Despite hours of shoe misery and stressed-out shopping to buy a contraption - which looked like space junk - but was supposed to help improve Bob's putting, Roxie's best intentions ended in little more than a staged smile and a few moments of crafted giftrionics.
Etymology: Blend of gift & histrionics: A deliberate display of emotion for effect, feigned emotion.
----------------------------
COMMENTS:
Very clever word, Bob. Do you have one of those contraptions in your closet by chance? - Tigger, 2007-12-20: 05:00:00
I know how Roxie feels - Jabberwocky, 2007-12-20: 13:36:00
Not any more TIG. Wisely donated them for sale at grandkid's school fete. - OZZIEBOB, 2007-12-20: 16:29:00
----------------------------
Created by: remistram
Pronunciation: glee-bluhf
Sentence: She gleebluffed her way through the unwanted gifts - the fancy broom, the new iron, the shiny cooking utensils, and last but not least - the toilet brush.
Etymology: glee (delight, joy, merriment) + bluff (to mislead, deceive, dupe)
Created by: MrDave2176
Pronunciation: de-lye-er
Sentence: Mabel was an excellent deliar. She clapped enthusiastically at the salad shooter, and smiled appreciatively at the hand-made sweaters. She managed to delie her way through the gift exchange without once saying how much she thought she'd get for them at a yard sale.
Etymology: de(light) mashed to liar
Created by: Nosila
Pronunciation: fo pree shee ay shun
Sentence: Rhoda was bowled over when her new suitor, Clive, brought her a lovely, fancily wrapped Christmas gift. She had to hold her smile, even though it turned fake, when she opened the box and discovered assorted electrical tools. Clive figured that since she lived in such an old house, she could use the tools. She had to show her fauxpreciation and try not to kill Clive on Christmas morning.
Etymology: Faux (not real or genuine) & Appreciation (gratitude)
Created by: mweinmann
Pronunciation: joy - foe
Sentence: Lucy put on her best joyfaux when Carl proudly presented her with his great grandmother's broach for Christmas. Even though it was a family heirloom, Lucy dreaded the idea of wearing a glittery map of Hungary on her chest.
Etymology: Joy (rejoice: feel happiness, the emotion of great happiness) + Faux (not genuine or real,fake or artificial) Also a play on the word joyful.
----------------------------
COMMENTS:
Good word...it would be a joyfauxpas not to vote for it...P.S. my brooch is a map of Ireland! - Nosila, 2008-12-23: 22:43:00
----------------------------
Created by: Nosila
Pronunciation: sham pree she ayshun
Sentence: Sharmaine had the biggest and best garage sales ecery summer. Most of the things she sold were new, not-ever-out-of-the-packaging type things. The reason for these sales was that Sharmaine was the Queen of Shampreciation. She could never say a bad word about a gift, she always faked her gratitude. And then she piled the offending gift into the spare room to pile up for the next big garage sale. If only her friends and family paid somne attention to her likes and dislikes, she wouldn't have to hold these huge sales all the time!
Etymology: Sham (feign, pretend,a person who makes deceitful pretenses) & Appreciation (indebtedness, gratitude)
----------------------------
COMMENTS:
Always find the gift of laughter in your creations. This one leaves me wondering if any one would buy these even at garage sale prices! - silveryaspen, 2008-12-23: 11:06:00
Cant help but wonder if that offensive gift was shampoo....eeewww - Mustang, 2008-12-23: 23:58:00
Nice blend - OZZIEBOB, 2008-12-23: 23:58:00
----------------------------
Created by: ZumZum
Pronunciation: th-fake
Sentence: When Bill the one-armed boy got another skipping rope for his birthday, he made sure to thfake his lovely mom for it.
Etymology:
Created by: silveryaspen
Pronunciation: sham-dawn-ka
Sentence: The utterly useless gee-gawd-awful he gave her did not score a slam-dunk with her ... it scored a shamdanke.
Etymology: sham for fake and danke which is the German word for thanks ... shamdanke