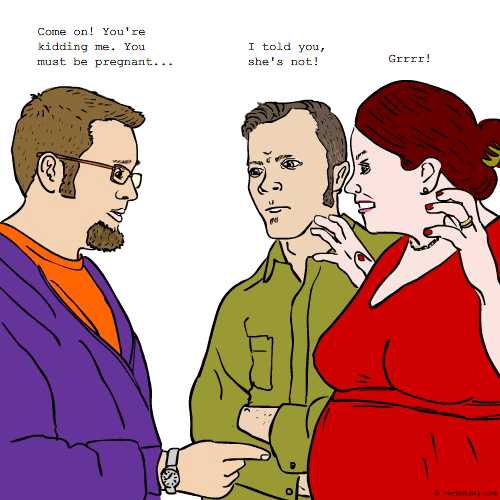 DEFINITION: v., To enthusiastically congratulate a woman on her pending motherhood, only to be told that you are mistaken. n., The dashed expectations and pregnant silence that follows mistaken congratulations.
Preculate
Top verboticism of the day created by hendrixius
Pronunciation: -prek-u-late-
Sentence: Darren was sweating bullets after he incorrectly preculated that the young woman on the train was great with child.
Etymology: pregnant + speculate
Created by: hendrixius.
More Top Verboticisms:
(Invented words created by the Verbotomy Writers)
Pregnonsee: /preg-non-see/ Jack's biggest gaffe happened when he congratulated his boss's wife on her pregnancy, but it was a pregnonsee. Etymology: pregnancy: to be pregnant + non: not + see Created by: mrskellyscl.
Comments:
good one - Nosila, 2010-04-01: 16:34:00
Notivity: /noht iv it eeeeeeee/ The news of her notivity was greeted with surprise and many tears. The tears were due to the escape of all the wind which had caused the rumour in the first place Etymology: nativity eh... not? Created by: galwaywegian.
Comments:
maternally yours... - Nosila, 2010-04-01: 16:33:00
Erroraparent: /er or ap per rant/ Trust Richard Dufus to say to the boss' wife at a party that she looked pregnant, when she wasn't. You could always count on him to make an erroraparent comment. He only ever opened his mouth to change feet. As if that remark did not endear him enough, he spied a person with lots of make-up, jewellery, a fancy wig and gaudy outfit on his way to the bar. When he asked the boss' mother what her Drag Queen name was and which drag bar she worked in, he found himself looking for another line of work... Etymology: Error (mistake) & A Parent (someone who has offspring)/ Apparent (clearly apparent or obvious to the mind or senses) & WordPlay on Heir Apparent (an heir whose right to an inheritance cannot be defeated if that person outlives the ancestor) Created by: Nosila.
Comments:
Richard is aparently good at erroronious assumptions. - artr, 2010-04-01: 07:00:00
To err is human, but not in his case! Cheers & Happy Easter - Nosila, 2010-04-01: 16:36:00
More...
To see more verboticisms for this definition go to: Come on! You must be pregnant...
More Winning Words:
More Verboticisms! See the winning words for: Excuse me, but are you giving us your full attention?