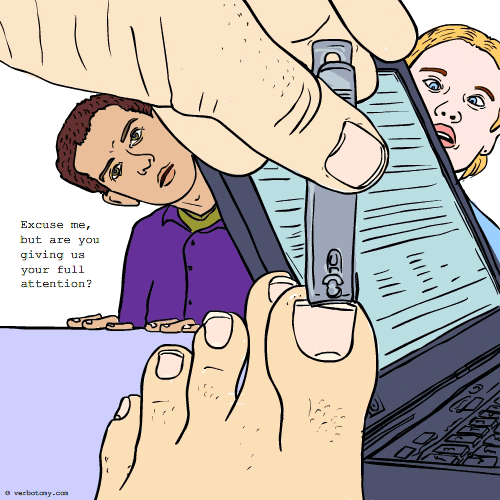 DEFINITION: v. , To groom oneself in inappropriate places or at inappropriate times n., A person who practices personal hygiene in public places.
Dreadicure
Top verboticism of the day created by lumina
Pronunciation: dred-i-cure
Sentence: Jim had no clue how disgusting it was each time he brought out his "man bag" and started with his monthly dreadicure right there in the living room. To make matters worse, he just let the clippings fly where they may, thinking it was hilarious each time Bud the dog would catch one in his mouth. Yeah, we was a real prince.
Etymology: dread + pedicure = dreadicure
Created by: lumina.
Comments:
yuck - Jabberwocky, 2008-10-31: 13:45:00
More Top Verboticisms:
(Invented words created by the Verbotomy Writers)
Skankeeclipper: /skan-key-clip-per/ Natalie was a true skankeeclipper and got in the habit of tearing off her fingernails while driving. She would open the window an inch and try to push them out, but all too often they would fall back inside and land on the door edge or scatter across the floor mats. And Tom, though he loved Natalie a lot, loved his car even more. He dumped the skankeeclipper for a woman with OCD and fake nails. Etymology: Yankee clipper altered to incorporate skanky--highly offensive; arousing aversion or disgust; Created by: Nuwanda.
Prinkompoop: /PRIN-kuhm-poop/ Bob thought that he was "groomed-to-zoom", but too many "hairs in the butter" by Bob, a persistent prinkompoop, seemed more likely to lead to gloom. Etymology: Etymology: Blend of PRINK: to preen, to groom oneself, to smarten up oneself; NINCOMPOOP: one who acts foolishly - enough & esp not to know when & where to groom. HAIRS IN THE BUTTER (sl) a delicate situation. GROOMED TO ZOOM (sl): well dressed & preened. Created by: OZZIEBOB.
Comments:
great word - Jabberwocky, 2008-10-31: 13:46:00
Pickanmix: /Pik-an-mix/ Tom was a serial toenail picker, he just couldn't help it. It didn't matter where he was, on the bus or out for the evening he just had to pickanmix all the rough pieces. It got to the stage when all his friends refused to go out with him because it had just got too embarrassing to sit there watching him remove his shoes and socks in public. Etymology: Pick(to remove unwanted matter, i.e from toes) + Mix(to associate with others) = Pickanmix Created by: TJayzz.
More...
To see more verboticisms for this definition go to: Excuse me, but are you giving us your full attention?
More Winning Words:
More Verboticisms! See the winning words for: Yes, I know it's red.