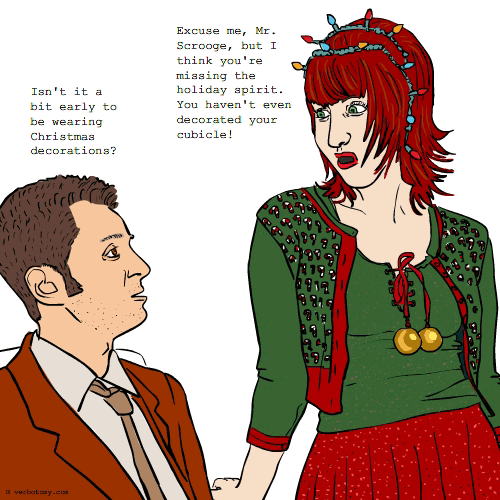 DEFINITION: n., A person so enamored with the holidays that they don't just deck their halls and home, but they also decorate their car, their cubicle, their pets, and themselves. v., To obsessively decorate according to seasonal holidays.
Tinselitis
Top verboticism of the day created by porsche
Pronunciation: tinsel-I-tis
Sentence: Sue's tinselistis was so acute that they had to schedule an emergency tinsellectomy.
Etymology: tinsel + tonsillitis
Created by: porsche.
Comments:
Congrats on your over all weekly win last week! Some great words!! Well done!!! - Stevenson0, 2007-12-03: 15:10:00
More Top Verboticisms:
(Invented words created by the Verbotomy Writers)
Domindecorate: /dom-inn-deck-or-ate/ He could barely move when he walked into the house. She domindecorated so much so that the walls, floors and ceiling where completely covered with Yuletide "kitsch", it was like a Christmas padded cell. Etymology: dominate (to permeate or to occupy a commanding or elevated position) + decorate (to furnish or adorn with something ornamental) Created by: remistram.
Ornamaximental: /or - nah - max - e - men - tal/ As I drove through the snowy, picturesque streets of my home town, coming back to spend the holidays with the family, I turned the corner and could see my childhood home. My mom had gone all ornamaximental again. Our home cast a halo of light which could be seen over the top of the hill. There must have been 20,000 lights everywhere, inluding trees, bushes, lawn decorations and even figurines on the roof. It was the same way when I was a kid. Our house glowed for Halloween, Thanksgiving, Easter, July 4th and sometimes even Valentine's Day. Etymology: This word has several other words incorporated. Ornamental has maxi inside of it. Also, ornate and ornament are prefixes. In the middle are max, maximum. Also as a suffix, mental can be added to signify someone who is a bit "over the top". Ornate (elaborately ornamented, often to excess; flashy, flowery or showy) Ornament, Ornamental (a decoration, serving the purpose of decoration or beauty ) + Maximum (the largest possible quantity) + Mental (Mind, the collective aspects of intellect and consciousness, affected by a disorder of the mind) Created by: mweinmann.
Comments:
Very nice etymology, especially the mentality of it all. - silveryaspen, 2008-12-09: 11:04:00
Maximental sentimental! Great word - Nosila, 2008-12-09: 23:15:00
Hollycost: /haw lee kost/ Holly Kost did it every year. From the minute Halloween ended, she started to decorate everything in her world with Christmas decorations. We are talking every inch inside and out of her yard, house, garage, car, plus her entire floor at work, her kids, her dog & cat, her spouse and herself. Every year she spent more and more money on new treasures. When she grudgingly took down her Christmas excess, just before Valentine's Day, she realized that she no longer had enough room to store away all her stuff at home. It was then that she decided to rent a big storage unit and pile everything into it. Sure, it was expensive, but so worth it, because she could also buy more stuff next year. Her hubby shook his head sadly, my wife is a YuleFool, she knows Noelimits, she's a Mistletroll, she knows Snowboundaries, she's a FiggyPudding, I think she hit herself on the old EggNoggin a long time ago and maybe we should put her in a Santatarium. Each year Holly Kost hollycost him more and more! Etymology: Holly (Decorative Christmas plant with red berries) & Cost (the total spent for goods or services including money and time and labor)& Holocaust (an act of great destruction/loss) Created by: Nosila.
Comments:
Spectacular! - emdeejay, 2008-12-09: 22:16:00
More...
To see more verboticisms for this definition go to: Isn't it a bit early to be wearing Christmas decorations?
More Winning Words:
More Verboticisms! See the winning words for: I thought you said hork...