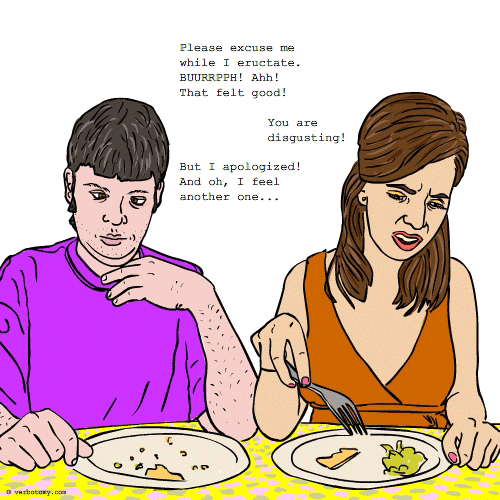 DEFINITION: v. To apologize for a belch, or the passing of gas, even though it is obvious that the action was done intentionally and with force. n. A person who apologizes insincerely for their burping or belching.
X
Top verboticism of the day created by hyperborean
Pronunciation: x
Sentence: x
Etymology: x
Created by: hyperborean.
Comments:
I'm going to try to change this, because it is almost exactly like Nosila's word. Sorry Nosilla! - hyperborean, 2009-06-03: 10:32:00
Thanks,h...I know imitation is the greatest form of flattery... - Nosila, 2009-06-03: 23:56:00
More Top Verboticisms:
(Invented words created by the Verbotomy Writers)
Apologasvert: /up-ah-lo-gas-vert/ Ron's apologasvert we all expect at Thanksgiving dinner. We play musical chairs when it comes time to sit down for dinner...No one wants to sit next to him! Etymology: apologize + gas + overt Created by: diyan627.
Gastard: /gas' terd/ Mike was such an immature gastard, always trying to gross out those around him at the table. Etymology: gas + bastard Created by: DrWebsterIII.
Apologastirc: /app-ollow-gas-trick/ Marianne's gaseous sound effects sounded loudly throughout the dining hall. Unfazed she alternated by stating that in Japan it's a complement to the chef and making other apologastric excuses between belches. Etymology: apologetic + gastric Created by: libertybelle.
Comments:
great word liberty - Jabberwocky, 2008-04-18: 10:08:00
More...
To see more verboticisms for this definition go to: Please excuse me while I eructate.
More Winning Words:
More Verboticisms! See the winning words for: Hello? Hello? Is this customer service?