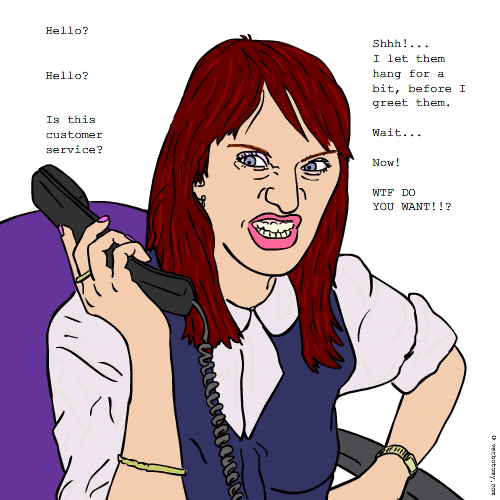 DEFINITION: v. To greet a person on the phone in rude or obnoxious manner, and then do your best to ignore, or talk over, whatever they say as the conversation continues. n. A person with atrocious phone manners.
Telewitch
Top verboticism of the day created by DrWebsterIII
Pronunciation: tel - e - wich
Sentence: I don't know but it seems every time I phone Con Ed to check my bill , I feel I always get the same telewhich. Is is it the same person every time or is that just part of their customer skills training!
Etymology: telephone (invention for transmitting speech over distances) + witch ( O.E. a person esp. a woman having supernatural powers with the devil or eveil spirits)
Created by: DrWebsterIII.
Comments:
funny.. - mweinmann, 2009-06-03: 07:23:00
More Top Verboticisms:
(Invented words created by the Verbotomy Writers)
Telebarketer: /tehl-uh-barrk-at-err/ Jolene was the perfect Customer Service Rep: she talked fast and loud, was completely deaf, and had years of experience as a Bill Collector, Meter Maid, and Telebarketer. Etymology: bark at her, from telemarketer Created by: hyperborean.
Comments:
And she cxalls during dinner each night! - Nosila, 2009-06-02: 12:19:00
So THAT's who keeps calling. Good one! - Mustang, 2009-06-02: 21:00:00
Gotohello: /go-to-hell-o/ She always answered the phone with a grating nasty "Gotohello". Then she would continue with a long string of erfhwask lu qkweuydcbwouiycqiuowqbyecqy ksdjgcskca kwejhf mdn sd, fj wdajrhwe iud woiur efukows eriuh rtudx rweiu eip vi uwer e er uerj erilhfriu eriu er iou erniuefsh ueher iopueroiereroiger(o) grekj hgetk;ud fhgo ji hbgr;seodiruvkudhfekjghrfcku viuenhvcfoiweunrviuerwvceui uewrbviuervgen wc iuer ieru vjh rvui hcr jhciu vriv esg iwgaefiucbiusa wyeuigfc i wer gfwerugfi uewrh f wiuf viuerfuifiphygreiu ksadjhfkjvsdfhf jklhrfveuiowrhfgoiuerv ojkdfkjhsauitryubnw vwebyt evefjknbb dsrjhewrouibn jihercb vroui erobiuvwebn veu ery bv e vunierniv e veio ueroiueroui ervstr oui tvegoi oi erv tuio vitrg oitrv i eruitv iourvtoier fgv iusdfio dvgof dfioig oi sv toi dgrioghdroi trouitogfi u teiutrioh uoritu goiut geuiogt oiu retugojiiouveojhvilr eruioh gkuevohoef nel hjglktrhjg eroruith go eguhrtoh gvuhb trjdlhi fbgn troitr jgoikjnbligj oijt roijiotrj troijt hrod jkfd hobgofgihj tuj trgio hgoog id gfiofg oi gfoi jhg dguoh og hji oi goigf iogfih oijg sritvujeoriuvng cjhsdbfviehgv sieuh sodfh kjr jrhfsd sa psgfsdhhfg fdkgjhg jgfkslng gapotruiy otui ofih ktjhntn fngfjgy tgjgjg kfjgjgnvkdfl poeoeyrn djjfjfghjhhjhjytoiu yjrtrtuyn yrk. Ooge eortu rtjgji ioodfhbt salker gkklt drkhjthg kgjyn. And finish with "Goodbye jackass". Etymology: go + to + hello Created by: Stevenson0.
Comments:
glad you got that off your chest? - Jabberwocky, 2008-04-16: 15:02:00
Sorry, didn't catch that. Can you please repeat it? - Tigger, 2008-04-16: 23:01:00
Sinsolent: /sin sil ent/ Rudi Persson was prone to be a sinsolent individual. She was paid to answer phones and help people, but in fact, she did the opposite. When people told her, "Have a Nice Day", she would mutter, "I've made other plans". Etymology: Sin (commit a faux pas or a fault or make a serious mistake) & Insolent (marked by casual disrespect;an offensive disrespectful impudent act;trait of being rude and impertinent; inclined to take liberties) Created by: Nosila.
More...
To see more verboticisms for this definition go to: Hello? Hello? Is this customer service?
More Winning Words:
More Verboticisms! See the winning words for: Omigod! What happened to you?