Vote for the best verboticism.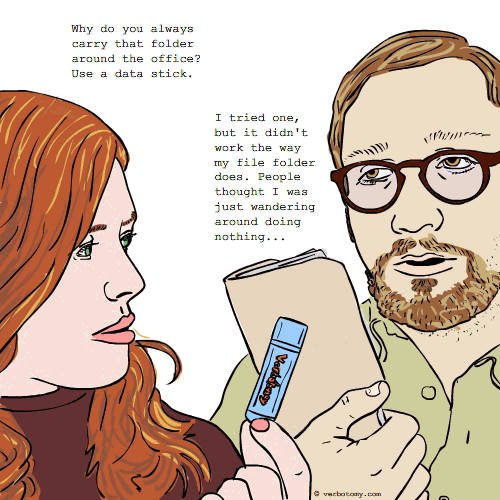 DEFINITION: n. A prop (e.g. papers, files or any non-functional equipment) used to create the illusion of busyness. v. To use office supplies to create the illusion that you are working.
Verboticisms
Click on each verboticism to read the sentences created by the Verbotomy writers, and to see your voting options...
You still have one vote left...
Created by: ohwtepph
Pronunciation: wohrk-oh-thuh-wiz-prop
Sentence: Oh god, that Ben has been such a work-o-the-wispropper ever since he started out in the business of being the business supervisor. The work-o-the-wisprop he carried around were very convincing: papers to be signed, a neat brown folder and a clipboard with Transformers scribbles on it.
Etymology: will-o-the-wisp [illusion] + work + prop + wiz [the best at something e.g. a math wiz]
----------------------------
COMMENTS:
good one! - pguse, 2007-06-13: 10:04:00
thanks. :D - ohwtepph, 2007-06-13: 10:28:00
It's a good one and I voted for you! - Stevenson0, 2007-06-13: 17:36:00
How did you get that punctuation in there? - mplsbohemian, 2007-06-13: 19:43:00
you can work all sorts of magic if you go into 'oops i want to change the spelling' bit of the edit section.... it makes things much more verbsatile - rikboyee, 2007-06-13: 22:23:00
----------------------------
Created by: Nosila
Pronunciation: fig men day shun
Sentence: As a long time civil servant in the federal Department of the Obscure and Forgotten Files, Roger was the King of the Toadies. He spent his entire workday carrying around a file folder which was labelled S.M.A.R.T. It looked very official and proved to the innocent bystander or visitor that Roger was a man with a special mission and purpose in his work. In fact the S.M.A.R.T. File was a figmendation. It usually contained a crossword puzzle or scratch & win cards, which Roger would spend his days at work playing. His co-workers thought that the S.M.A.R.T. stood for Segregated Modules Actualizing Relative Theory. In fact, the S.M.A.R.T. acronym actually stood for See Me Avoiding Real Toil. Yes, Roger was also known by his more popular nickname: The SmartFile Dodger!
Etymology: figment (a contrived or fantastic idea, i.e: a figment of the imagination) & mendacious (intentionally untrue;lying)
----------------------------
COMMENTS:
Did Riger work at the Texas Blog Suppository? Ya crack me up, Nose! - metrohumanx, 2008-08-06: 16:37:00
----------------------------
Created by: Mustang
Pronunciation: DOCK-yew-flawj
Sentence: Harper fancied himself a very clever tactician, using an old empty attache case as docuflage, believing that coworkers were convinced that he was actually packing a large work schedule, though everyone in the office had been on to his scam for years.
Etymology: Blend of the words 'document' (various paperwork) and 'camouflage' (a device or stratagem used for concealment)
Created by: Nosila
Pronunciation: dok u men tal it ee
Sentence: Pierre's ruse was to use his documentality to elude real work. He would carry any official-looking folder or paper to make it look like he was on his way to a very important meeting. In fact, he remembered the trick his English classes used about the different words "stationary & stationery". The "ar" one stood for At Rest, as in stationary machinery and the other "er" one stood for the last 2 letters in paper...or in his case "Eternally Roving".
Etymology: Document (writing that provides information (especially information of an official nature); anything serving as a representation of a person's thinking by means of symbolic marks) & Mentality (a habitual or characteristic mental attitude that determines how you will interpret and respond to situations; mental ability)
Created by: purpleartichokes
Pronunciation: slak-sess-or-ee
Sentence: Phil's slackcessory wasn't fooling anyone. The "tech manual" he was toting around was the instruction booklet for his lawn mower. Apparently, he was Fridazed when he took that course on shirkonomics.
Etymology: slack (to avoid work), accessory
----------------------------
COMMENTS:
I thought a slackcessory was a new belt. - galwaywegian, 2007-06-13: 07:01:00
great one purple! - toadstool57, 2007-06-13: 07:07:00
Bravo! - Clayton, 2007-06-13: 07:42:00
very good!! - Jabberwocky, 2007-06-13: 09:27:00
Galway - a belt would be a britch-hiker. And I'm quite pleased that I finally made a word that I actually like! - purpleartichokes, 2007-06-13: 10:33:00
actually purple I think a britch-hiker is a brilliant word for suspenders - how about a belt being a gutwrencher - Jabberwocky, 2007-06-13: 10:57:00
That's good! Wish one came with the squishsuit I bought this year. - purpleartichokes, 2007-06-13: 11:21:00
"Slackcessory" is indeed a good word, though it sounds like it would apply equally to a device for enhancing the slacking experience (such as a Gameboy) as it would to a device for hiding the slacking experience. - ErWenn, 2007-06-13: 14:13:00
And "britch-hiker" is simply awesome. I think it's a generic term for anything that pulls your pants up, such as a belt, a pair of suspenders, or a wedgie-giver. - ErWenn, 2007-06-13: 14:14:00
the best - pguse, 2007-06-13: 14:55:00
Yep. Wished I thought of that. - texmom, 2007-06-13: 20:41:00
ErWenn makes a good point, but I think that words such as these might offer more utility than their highly specified synonyms. This one might have eight different sense of meaning. Perhaps more in America. - Clayton, 2007-06-13: 20:41:00
----------------------------
Created by: rjk31
Pronunciation:
Sentence:
Etymology:
Created by: protothor
Pronunciation: fillusion
Sentence: This fillusion is working very well; no one even expects I'm not doing anything.
Etymology: From 'file' and 'illusion', anything that gives an observer the idea that you're preoccupied.
Created by: administraitor
Pronunciation: row-bow-flaj
Sentence: Howard found that measuring floors desks and windows allowed him to prowl the office at will, his roboflage consisting of a tape and clipboard.
Etymology: robot (worker) + camouflage
Created by: scrabbelicious
Pronunciation: Mock-pet-eet
Sentence: Mike liked the comfort of a mockpetit, I suppose it satisfied his amateur-actor workplace persona.
Etymology: Noun, a hybrid of the noun Mock (fake) and petite meaning small and toy-like.
----------------------------
COMMENTS:
OOh- double word score! very good. - metrohumanx, 2008-08-06: 16:35:00
----------------------------
Created by: artr
Pronunciation: smärtfōnē
Sentence: Tom can always be seen with his smartphony in hand. It gives him the air of being up on current technology. He has never read an e-mail on it. He has never made or received a phone call. The truth is that he barely understands how to turn it on.
Etymology: smartphone (a mobile phone that incorporates a PDA) + phony (not genuine; fraudulent)