Vote for the best verboticism.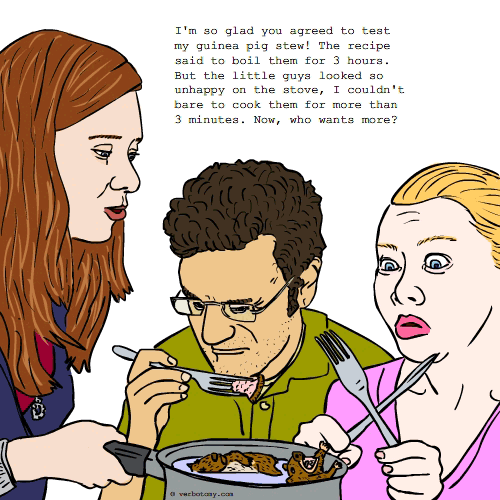 DEFINITION: v. To prepare or process food in a manner that renders it unpalatable, indigestible and completely inedible. n., Food which has been prepared in such a way that it is unfit for human, or even non-human, consumption.
Verboticisms
Click on each verboticism to read the sentences created by the Verbotomy writers, and to see your voting options...
You have two votes. Click on the words to read the details, then vote your favorite.
Created by: OZZIEBOB
Pronunciation: SKWEE-mes-tuh-buhlz
Sentence: Roxie's "piece de resistance" was her cesserole de squeamestibles - an annigobnoxious alimentation - barely edible once a year. Bob often wondered whether it would all end in cuisinecide!
Etymology: 1. SQUEAM: (a back formation of Squeamish) Of the stomach: nauseous food; food readily affecting or turning one sick; unswallowable food and (COM)ESTIBLES: Something or an article (of food) that can be eaten as food: meat, cheese, and other comestibles. "CESS" from cesspool & CASSEROLE: a baking dish; any food, usually a mixture, cooked in such a dish. Noun : cesserole; Verb: to cesserole.
Created by: bananabender
Pronunciation: RECH - i - pee
Sentence: After Marla mixed and drank her healthy earth worm shake, Ron inquired which retchipe book she got her inspiration from.
Etymology: retch - to make an effort to vomit + recipe - list of ingredients and instructions for preparing a concoction of food or drink
----------------------------
COMMENTS:
I like it!! - Mustang, 2008-01-14: 07:00:00
Retchipes for the wretched wreck of a cook gone bad! Great Creation! - silveryaspen, 2008-01-14: 11:20:00
very appropriate - Jabberwocky, 2008-01-14: 15:29:00
Some recipes are so bad, they sound almost ready to retch for! Nice word! - OZZIEBOB, 2008-01-14: 19:13:00
Its a retchtipe for disaster. Great word! - Tigger, 2008-01-15: 00:04:00
----------------------------
Created by: flyingheadlice
Pronunciation:
Sentence:
Etymology:
Created by: Mustang
Pronunciation: kweh-ZEEN-de-grayd
Sentence: Caroline's one specialty was in the area of cuisinedegrade....she could make even beef wellington taste and look like pet food.
Etymology: Blend of 'cuisine' (a style or quality of cooking; cookery) and 'degrade' (lower the grade of something; reduce its worth)
Created by: courty3303
Pronunciation: Mah-pit
Sentence: Did I mopit that dish?
Etymology:
Created by: nsoodik
Pronunciation: dee-guss-ti-fie
Sentence: My wife makes a mean poached salmon, but when it comes to jambalaya, she can degustify the freshest ingredients into an unappetizing slop.
Etymology:
Created by: LoftyDreamer
Pronunciation: nast-ee-kol-eye
Sentence: Congolia's culinary experiments began to wear on her friends and family after her brother was rushed to the hospital with a bout of nastecoli from her latest mysterious concoction.
Etymology: nasty (yucky) + e. coli (bacteria causing extreme intestinal discomfort)
----------------------------
COMMENTS:
Very good word - TJayzz, 2008-11-11: 23:30:00
----------------------------
Created by: Jabberwocky
Pronunciation: a/la/come/ode
Sentence: A local eatery serves their dinner alacommode. The chairs which are really toilet seats come in very handy to cleanse the palate between courses.
Etymology: a la mode + commode (toilet)
Created by: mrskellyscl
Pronunciation: naw-zheets
Sentence: Alta's cooking was so disgusting that it was named nauseats by the poor wretches who came to dinner unaware of her atrocious cooking skills.
Etymology: nausea:the sensation that preceeds vomiting; feeling of disgust or revision + eats: food
Created by: libertybelle
Pronunciation: eoooo- sheph
Sentence: Mark the ewwchef that he is, made us a cassarole made of chocolate bars and smoked oysters. Sure, i suppose both are aphrodisiacs, but the combination together is deplorable. At least it was a little better, though, than his kidney bean, pickle and horseradish salad. (the worst part is that i didn't make any of theose combinations up... they are real recipes that people in my family have tried to pass off...)
Etymology: sous chef - a culinary role of assistant to the executive chef + Eww - an exclaimation said when something is gross