Vote for the best verboticism.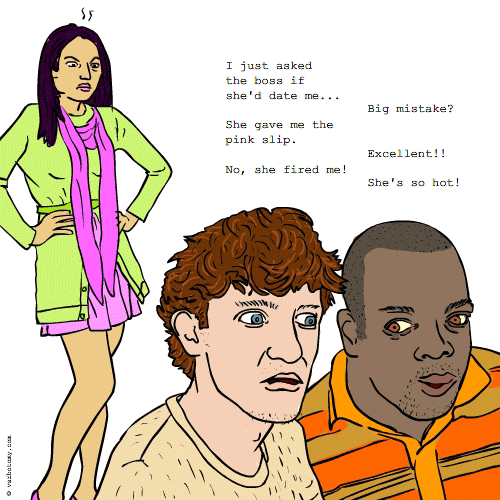 DEFINITION: v. To make a mistake where the benefits exceed the costs of the screw-up. n. An excellent mistake, which despite its stupidity, produces a positive outcome.
Verboticisms
Click on each verboticism to read the sentences created by the Verbotomy writers, and to see your voting options...
You have two votes. Click on the words to read the details, then vote your favorite.
Created by: petaj
Pronunciation: byoo-dee-trap
Sentence: Mark was on a sweet learning curve after falling for a bewdytrap. Although he succumbed to the seductive charms of a woman in power and asked her out for a date, the resulting dismissal led to a new job as a female impersonator. His strutting around the stage was reminiscent of his ex-boss and he was a huge hit with the audience.
Etymology: booby trap (something that causes someone to suffer an accident or make a mistake) + bewdy (Aust. sl variation of beauty meaning excellent)
Created by: DazzleMcFazzle
Pronunciation: Idy-o-vin-dicitee
Sentence: Charlie having finished his game of tennis, went back to the changing rooms and looked on the bench where he left his clothes. He got changed, and walked out. It was not until he reached into his pocket for his train ticket that he had put someone elses trousers on. But having found a wallet with not only an all day ticket but a huge wad of cash felt a sense of idiovindicity wash over him.
Etymology: n. Stupidity which through its positive result, justifies it having been committed with no remorse.
Created by: mweinmann
Pronunciation: win - kor - eckt
Sentence: Although Fred had income tax problems due to repeated and numerous "errors", his accounts were frozen and he went to jail; Fred felt his actions were wincorrect. First of all, he lived several luxurious years off the government, he was finally rid of his leech of a wife and now his prison guard was hot!
Etymology: win, incorrect
----------------------------
COMMENTS:
Good one! - alicat, 2009-06-12: 12:50:00
----------------------------
Created by: didsbury
Pronunciation:
Sentence: When I dinged my boss's car in the lot I thought I was fired for sure but the whole situation was totally clutzverted. It turns out she wanted an excuse to claim insurance for some damage done in a not-so-secret DUI incident last month.
Etymology: Derived from the German 'klootzverteignung'. First written usage in 1538 in the description of a mid-summer festival where the death of 250 Bavarian villagers created a flourishing tourist trade at the site of the event.
----------------------------
COMMENTS:
Great word. - OZZIEBOB, 2008-05-04: 06:49:00
----------------------------
Created by: Mustang
Pronunciation: sair-ehn-DUM-eh-tye
Sentence: Once again Filbert was the accidental 'victim' of serendumbity, having made what for anyone else would be a major faux pas but for him ended up with his dream date.
Etymology: Blend of 'serendipity' (finding unexpected treasure or joy) and 'dumb' (stupid - unintelligent)
Created by: d1420
Pronunciation: mi-steyk tas-tik
Sentence: Jack's decision to sale his only source of milk and protein for "magic beans" sorely upset his mother and put him in a jam. But he soon realized that his mistaketastic set him on his epic adventure up and down the beanstalk.
Etymology: mistake = a misunderstanding or misconception + fantastic = extravagantly fanciful; marvelous
Created by: TJayzz
Pronunciation: Zoo-purr-blu-pur
Sentence: Jane was distracted by her kids whilst buying her lottery ticket and made a mistake by writing down the wrong numbers, fortunately it turned out to be a zooperblooper as, due to her mistake she won the jackpot!
Etymology: Zooper(super,great) Blooper(a big mistake) = zooperblooper
----------------------------
COMMENTS:
Zoinks, that was a lucky mistake. - Tigger, 2008-05-02: 22:01:00
What are the chances... - Nosila, 2008-05-03: 22:22:00
----------------------------
Created by: pieceof314
Pronunciation: oops-eh-lish-us
Sentence: John knew immediately that his comments about his boss' daughter Melody would get him fired. However it turned out to be an oopselicious event when she later called him up to ask him out.
Etymology: oops + [d]elicious
Created by: Nosila
Pronunciation: blun der full
Sentence: When Wendy started her new job at James & Sons, she was anxious to learn quickly and move up the ladder. Fireworks started on her first day when she gave the office boy, Jimmy, heck for delivering the wrong mail. The second day, she berated him for spilling coffee on her new suit. The third day, she nagged him to bring in sandwiches for the staff. By day 4 he and she had developed a toxic, intense relationship. On Friday afternoon, he asked her out on a date. She was about to refuse when she felt she had spoken to him in a rude manner all week. Her treatment of him turned out to be blunderful instead. Apparently, Jimmy was one of the owner's sons and loved her feistiness and he and Wendy are now happily married and she is Exec.VP!
Etymology: Blunder (error,embarrassing mistake) & Wonderful ( extraordinarily good; used especially as intensifiers)
Created by: Jabberwocky
Pronunciation: air/owe/nee/bow/nus
Sentence: To erroneously mark down the wrong civic holiday on the company calender was a mistake. To get an extra day off was an erronebonus.
Etymology: erroneous + bonus