Vote for the best verboticism.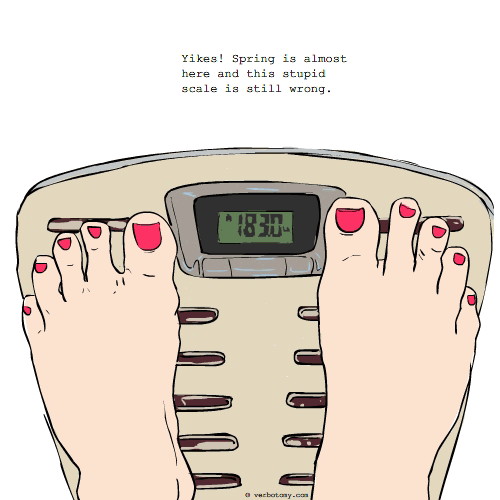 DEFINITION: n. That sinking feeling you get when you realize that you will be shedding your winter coat, before you can possibly shed the extra layer of insulation (i.e. fat) that you gained over the winter. v. To worry about your weight.
Verboticisms
Click on each verboticism to read the sentences created by the Verbotomy writers, and to see your voting options...
You have two votes. Click on the words to read the details, then vote your favorite.
Created by: CharlieB
Pronunciation: fizz-eek
Sentence: Stepping on the scales, Jeannie struggled to come to terms with her new physeek.
Etymology: physical (of the body) + eek (a squeak of fear) + physique (physical or bodily structure or appearance)
Created by: Alchemist
Pronunciation: eh-kwuh-NOKS-shush
Sentence: As Barb peered over her belly to read the scale she felt so equinoxious she had to sit down. She began to sob, "Damn, I KNEW I should've thrown those last dozen fruitcakes away!"
Etymology: equinox (first day of spring) + anxious with a side of noxious.
Created by: aj3131
Pronunciation: Fat-Zi-Ity
Sentence: faxiety is the leading cause of depression in the spring months.
Etymology: Fat+ (an)xiety
----------------------------
COMMENTS:
This is good, in fact I am a bit fatxious right now.. - wordmeister, 2007-02-28: 09:06:00
----------------------------
Created by: catgrin
Pronunciation: vur-nl-ahrd-al-ahyz
Sentence: Looking at the scale in March makes many women frustrated as they vernillardalyze.
Etymology: vernal + ill + lard + analyze = spring + sick + fat + thought
Created by: ErWenn
Pronunciation: /ˌoʊˈbizɚɹi/
Sentence: When it gets you down, just remember that Santa's New Year's obesery has got to be worse than yours.
Etymology: From obese + misery
Created by: artr
Pronunciation: θinfachoōātd
Sentence: Like many people do at this time of year, Kim is thinfatuated with how she will look when it comes time to head for the beach. You might even say she has a blobsession, fretting over every bite she takes. She doesn*t have much time to get rid of her Winter sinsulation.
Etymology: thin (make or become smaller in width or thickness) + infatuated (be inspired with an intense but short-lived passion or admiration for)
----------------------------
COMMENTS:
thimply thinful word - Nosila, 2010-03-18: 00:18:00
----------------------------
Created by: bettyann9
Pronunciation:
Sentence: The blubberization he was feeling when he saw that extra 200 lbs was overwhelming. Maybe cut out the side of a cow every other day?
Etymology:
Created by: Nosila
Pronunciation: ex ert syz
Sentence: Every year at this time, Phyllis Withbread, goes through the agony of how much winter weight she has gained. In an effort to try a lose a few pounds, she races herself each year to lose weight before the snow all melts. Between meagre diet and exertsighs, she tries to ruminweight about her extra pounds and kilos. Luckily for Phyllis, the snow won't be gone until May or June, so she will have longer to fight the Battle of the Bulge, the Scales of Injustice and the Mounds of Pounds.
Etymology: Exercise (the activity of exerting your muscles in various ways to keep fit) & Exert (make a great effort at a mental or physical task) & Sighs (heave or utter a sigh; breathe deeply and heavily)
Created by: toralora
Pronunciation: Fatt/bloos
Sentence: I don't feel like going out tonight, I have the fatblues going on.
Etymology: fat + blues (depression)
Created by: sunny
Pronunciation:
Sentence: As the first robin flew past her window, she stepped upon the scale and was struck by a bout of frostflabitis.
Etymology: