Vote for the best verboticism.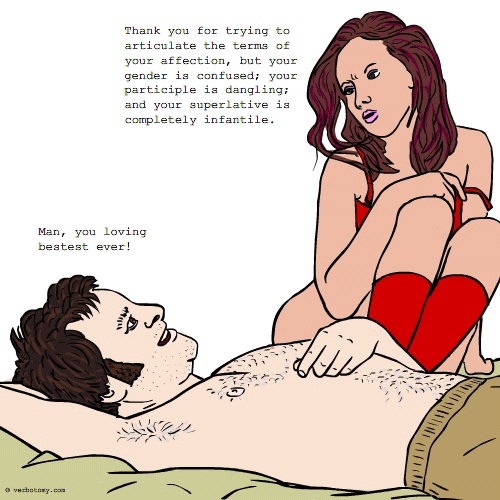 DEFINITION: n. A person who constantly corrects other people's grammar. v. To habitually correct the grammar of everyone with whom you speak regardless of the social context or the minuteness the perceived error.
Verboticisms
Click on each verboticism to read the sentences created by the Verbotomy writers, and to see your voting options...
You have two votes. Click on the words to read the details, then vote your favorite.
Created by: Mustang
Pronunciation: par-SNIK-ety
Sentence: Being a stickler for grammar, Esmerelda was thoroughly parsnickety and always quick to correct even the most insignificant grammatical blunders, and was especially critical of her boyfriend, Leonardo, whose grammar skills were particularly weak.
Etymology: Blend of 'parse' (To break (a sentence) down into its component parts of speech with an explanation of the form, function, and syntactical relationship of each part. ) and 'persnickety' (Overparticular about trivial details; fastidious)
Created by: DaddiezGyrl
Pronunciation: cun-ing-LEEN-gwest, n. cun-ing-LEEN-gus, v. intr.
Sentence: The unmistakable voice was none other than that of the town's Cunninglinguist; there to interrupt, correct and embarrass her.
Etymology: Blend of Cunnilingus+Cunning+Linguist Cunning: showing inventiveness and skill Linguist: a specialist in linguistics and or languages Also deriving from Cunnilingus: oral stimulation; usually involving the vulva or clitoris
Created by: GlobalGallery
Pronunciation: Kon-ver-sedit-ta
Sentence: Mike was annoyed by the continual corrective interjections of his fiance Tanya every time he spoke. He called off the wedding because her incessant conversediting had become unbearable.
Etymology: 1.Conversation - informal interchange of thoughts by spoken words. 2.Editor - one who edits material for publication.
Created by: galwaywegian
Pronunciation: pedd ant
Sentence: emma was a pedaunt, she took after her gramma
Etymology: pedant, aunt
----------------------------
COMMENTS:
it's all relative...good one! - Nosila, 2010-06-02: 23:43:00
----------------------------
Created by: Nosila
Pronunciation: sin tax
Sentence: Joel knew that contant correction of his dreadful grammar by the lovely Davina was the sintax he had to pay for her affections.
Etymology: Sin (commit a sin; violate a law of God or a moral law) & Tax (set or determine the amount of (a payment such as a fine);use to the limit) & Syntax (the grammatical arrangement of words in sentences)
Created by: mercury258
Pronunciation: gram-you-scribe
Sentence: Jenna: Where'd you go to? My water broke and I need a ride to the hospital! Sarah: I think you mean to say, "To where did you go?" Jenna: Quit grammuscribing me and give me a ride!
Etymology: From Grammar and to Prescribe
Created by: simoneshin
Pronunciation: brain-in-the-ass
Sentence: sh*t, you're a real brain-in-the-ass. don't you mean pain-in-the-ass? no you *****
Etymology:
----------------------------
COMMENTS:
Hahahaha. - metrohumanx, 2009-01-21: 15:32:00
----------------------------
Created by: Biscotti
Pronunciation: in-glish-may-jor
Sentence: Alex really took his englishmajorism over the top when he tried to convince people they were speaking with the wrong form of the word (too, two, to).
Etymology: english (a language many people speak) + major (the main course of study at a 4 year university or college)
Created by: rebelvin
Pronunciation: wordnerd
Sentence: She wordnerds me every time I say the least thing grammatically incorrect.
Etymology: word+nerd
----------------------------
COMMENTS:
Hey, quit making fun of the username! - werdnurd, 2008-03-26: 15:23:00
----------------------------
Created by: Jabberwocky
Pronunciation: the/good/gram/air/i/tan
Sentence: Thegoodgrammaritan is a selfless individual who will stop to correct bad grammar no matter what the consequences to himself might be.
Etymology: good + grammar + the good samartitan
----------------------------
COMMENTS:
Irony at its humorous best. Delightfully excellent. - silveryaspen, 2009-01-16: 10:01:00
Excellent word! Very grammartological. - Nosila, 2009-01-16: 20:47:00
May he fall off his high horseie! - metrohumanx, 2009-01-21: 15:37:00
----------------------------