Vote for the best verboticism.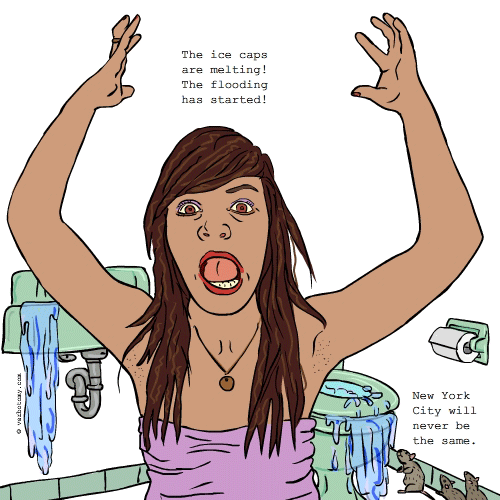 DEFINITION: v. To increase the world's liquid water supply (and dramatically raise the level of our oceans) by accidentally melting the polar ice caps. n. The rising seas and associated flooding due to melting ice caps.
Verboticisms
Click on each verboticism to read the sentences created by the Verbotomy writers, and to see your voting options...
You have two votes. Click on the words to read the details, then vote your favorite.
Created by: abrakadeborah
Pronunciation: Ar-tic-mel-ti-flow
Sentence: Eeeek! Marie-Jacques ran screaming out of her home in her bath towel in a panic from the "articmeltiflow" causing water to gush out of every plumbing fixture in her house! She was feeling the effects of global warming. She knew the temperatures in the Arctic region were rising twice as fast as they are elsewhere in the world and the Arctic ice is melting and causing an "articmeltiflow" so badly that is was bursting pipes and overflowing everywhere! Small wild animals were being forced out of their natural habitat floating into Marie-Jacques's home. It wasn't the "articmeltiflow" that she was so much afraid of, it was all the wild animals scurrying around to make a new home at Marie-Jacques's home!
Etymology: Artic;The Arctic (/ɑɹktɪk/, /ɑɹtɪk/) is the region around the Earth's North Pole, opposite the Antarctic region around the South Pole. The Arctic includes the Arctic Ocean (which overlies the North Pole) and parts of Canada, Greenland (a territory of Denmark), Russia, the United States (Alaska), Iceland, Norway, Sweden and Finland. Melt;the process of heating a solid substance to a liquid. tiflow;(slang);causing water to gush as you flush,brush or shower "Articmeltiflow" is causing all your plumbing to overflow and flooding you out of the house as small wild animals float inside and take over.
Created by: galwaywegian
Pronunciation: biii biii poh lar
Sentence: They said gore was mad, but he proved to be byebyepolar.
Etymology: bipolar, bye bye polar bears
----------------------------
COMMENTS:
Very clever! "bye bye polar bears" - sniff :( - karenanne, 2010-09-27: 15:21:00
----------------------------
Created by: karenanne
Pronunciation: ICE berg ler ee
Sentence: The government has had to impose sanctions against many of the big companies who are contributing most to pollution and CO2 levels, since they don't care if it causes global warming, melting of icebergs, and rising sea levels 50 years from now. Why should they care? None of those people will be around! Basically their actions (or inaction) should probably be termed an iceburglary. Although speculating on future oceanfront properties in the Adirondacks might not be a bad idea....
Etymology: iceberg + burglary
Created by: readerwriter
Pronunciation: b'eye-poh-ler-ih-cih-tee
Sentence: Dr. Arky Bohta had created a safe haven in Savannah, Georgia, for sufferers of what he called Bipolaricity. Since the accidental onset and melting of the two polar icecaps the psychiatrist had been meticulously documenting the increasing mood swings and paranoia of his patients. His theory was that because the human body is more than 85% water the creeping and cruising of encroaching icebergs was the reason. However, on a hot and muggy summer's day, as two ice bergs from the South and North approached Key West and the Mason-Dixon line, he noted there was high and enthusiastic response during a group brainstorming session when one patient proposed brewing and bottling something called "BiPolar Ice Tea."
Etymology: Using BIPOLAR, the psychological term for severe mood disorders with the two (North and South) or bi (from L.) poles
Created by: Nosila
Pronunciation: pole ar thaw gra fee
Sentence: When Jill entered university to study polarthawgraphy, she was confused. She first thought polar ice caps were drinks. She thought placing freezers over the poles would ensure they did not melt away, as she was afraid Santa would drown at the North Pole...
Etymology: Polar (ice caps) & Thaw (melt) & Graphy (suffix indicating an art or descriptive science)
Created by: splendiction
Pronunciation: glow ball warn ing
Sentence: Globalwarning of rapid carbon release from the earth should encourage measures such as a return to using renewable energy sources such as water power, wind power, even solar power. Certain industries and populations must reduce their carbon emissions, or we will continue to see ocean water levels rise, bizarre weather; and ultimately experience continued loss of animal and human life...leading to extinction.
Etymology: From the words "globalwarming" and "warning". A term that warns that our problem of globalwarming needs immediate attention and change over to using "green", earth-friendly energies. This is our globalwarning!
----------------------------
COMMENTS:
Really good word. - kateinkorea, 2009-03-17: 19:37:00
----------------------------
Created by: artr
Pronunciation: theethaw
Sentence: Maybe it was his choice of words, maybe his lisp, but when Henry tried to warn people about global warming, his efforts fell on deaf ears. His proclamation to "beware the arctic theathaw" left people wondering why a teetertotter in the tundra could be any concern to them.
Etymology: thea (ocean) + thaw (to pass or change from a frozen to a liquid or semiliquid state; melt) play on seesaw with a lisp.
Created by: Annette
Pronunciation:
Sentence: The capqua flow is even larger than anticipated.
Etymology:
----------------------------
COMMENTS:
Good start...I like the word. - kateinkorea, 2009-03-17: 19:30:00
----------------------------
Created by: kateinkorea
Pronunciation: GLO warm
Sentence: Tom tucked his daughter into bed with the Gloworm he had given her from his childhood. He had been watching something on TV just before that about global warming. Later in his confused dreams there was an oversized Glowarm doll made of ice, walking around like a King Kong character melting all over and raising the water levels in the city. Tom's dream of his glowarm situation reminded him that he should be more environmentally conscious.
Etymology: GLOBAL WARMING: GLOWORM:
----------------------------
COMMENTS:
A heartwarming yet disturbing story. I try to be environmentally couscous. but it's hard. - metrohumanx, 2009-03-17: 02:59:00
----------------------------
Created by: TJayzz
Pronunciation: Dee-cap-it-oo-layt
Sentence: After many years of taking this planet for granted, the polar ice caps are melting at a tremendous rate it has come to the point where it is decapitoolate and nothing can be done to stop it.
Etymology: Decapit- to destroy the cap + Too late- un out of time = Decapitoolate
----------------------------
COMMENTS:
Clever! - kateinkorea, 2009-03-17: 20:06:00
----------------------------