Verboticism: Feelastoplast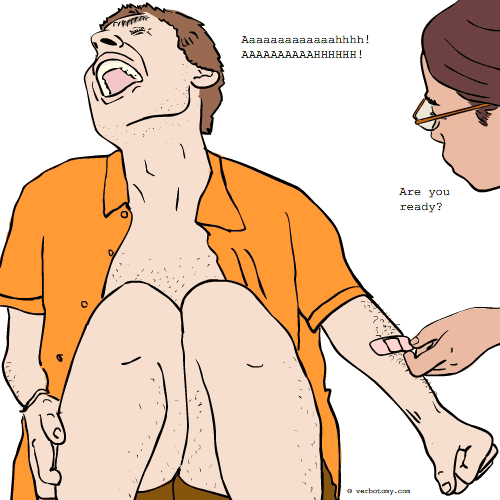 DEFINITION: n. The horrible pain that comes from pulling a bandage off of hairy skin. v. To inflict pain or injure when removing a bandage.
Feelastoplast
Pronunciation: fee las to plast
Sentence: Edwin was a big wuss when it came to pain. He could feelastoplast every hair pulled by its roots off his arm by the bandage. He was such a baby about it that his wife Jane took great pleasure in making the pain last as long as possible. She thought that the Human Race would have died out long ago if it were up to men like Edwin to give birth...
Etymology: Feel (perceive by a physical sensation, e.g., coming from the skin or muscles) & Elastoplast ( an elastic adhesive bandage for covering cuts or wounds)
Points: 464