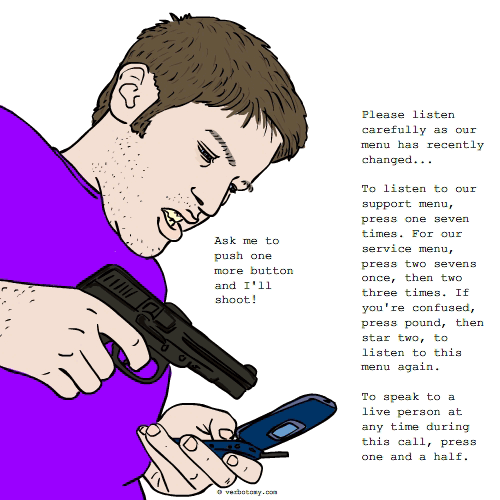 DEFINITION: v. To call a phone "help line" and spend 45 minutes pushing buttons and screaming at dumb voice-recognition system, before being automatically disconnected. n. A push-button or voice-activated phone menu system designed to irritate those who use it.
Helpwhine
Created by: artr
Pronunciation: helpwīn
Sentence: Most every company has some version of a helpwhine. If you can push the right buttons, you are allowed to vent your frustrations to somebody who may or may not care what you have to say — somebody who may or may not speak discernible English. This assumes that you are ever able to find that lone human in the maze of options. "Your Call is very important to... click".
Etymology: help (assist) + whine (a feeble or petulant complaint)
Points: 743