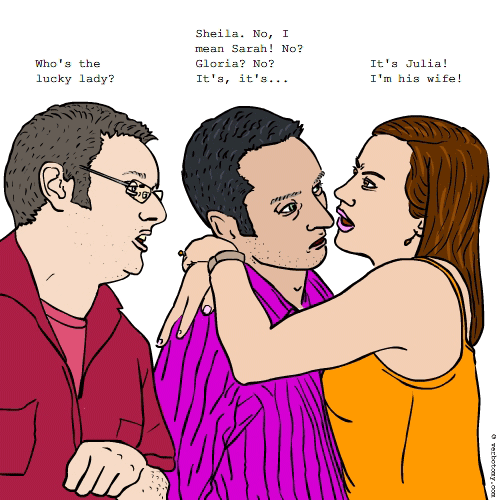 DEFINITION: v. To be unable to remember the name of a person you are speaking to, even though you've had a long-standing, and perhaps even an intimate relationship. n. An inability to remember a person's name.
Onomamnesia
Pronunciation: /o-no-ma-mne-zhi-a/
Sentence: Woke up one morning and said: "Good morning, Sue" to the woman still sleeping next to me. Given the fact that my wife's name is not Sue, it didn't sit well with her. Claiming ONOMAMNESIA didn't work. Does anyone have any suggestions on how to get out of that one? I mean other than to find a good divorce attorney?
Etymology: ONOMA (fr. Greek) – name; AMNESIA (fr. Greek) – forgetfulness
Points: 647