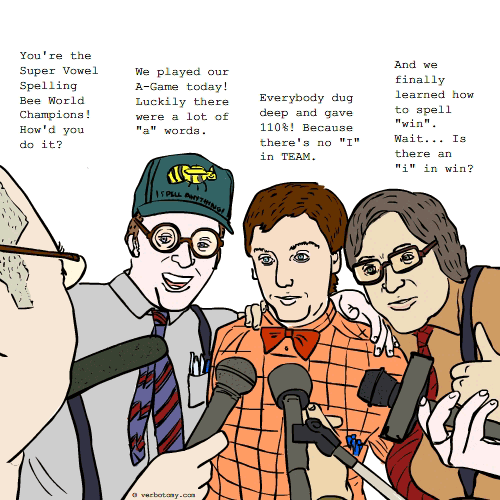 DEFINITION: v., To speak in an inspirational but perhaps incomprehensible manner by stringing together a series of grunts and clichés. n., An inarticulate TV or radio, post-game interview, typically given by a panting, toothless, sweating, verbally-challenged, and hugely overpaid, athletic superstar.
Earnacular
Pronunciation: urn ak yool ar
Sentence: After the Stanley Cup final which saw his team lose by 25 to 0 to the Toronto Maple Leafs, the team captain was interviewed on national television. Big Bobby NoFrontTeeth, who's annual salary was 18 million dollars, was analytical about his team's loss to the only team who had not won since 1967. Speaking with sweaty hair, toothless grin, and a vocabulary in monosyllabic syntax, he was philosophical. In his earnacular, he figured their loss was due to the fact that the other team got more goals.
Etymology: Earn (acquire or deserve by one's efforts or actions;earn on some commercial or business transaction; earn as salary or wages) & Vernacular (the everyday speech of the people (as distinguished from literary language);a characteristic language of a particular group (as among thieves)
Points: 872