Verboticism: Inchersecting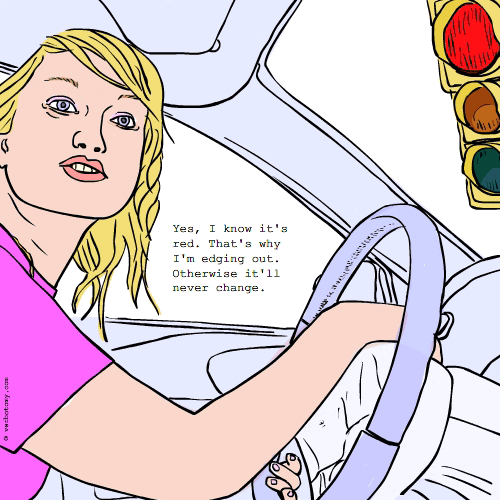 DEFINITION: v., To slowly inch your vehicle forward at a red traffic light hoping that you can make it change faster. n., A driver who allows their vehicle to creep into the middle of an intersection while waiting for a red light.
Inchersecting
Pronunciation: inchersecting
Sentence: Jane believed that she needed to be inchersecting at every red light in order to continue driving, a notion she'd had since she was little. Her father would entertain her by inching up at traffic signals far enough that he could see when the light in the opposite direction turned yellow. Then he would count to three and say, "abracadabra," making her believe that he had magical powers to change red lights.
Etymology: inch: to move forward slowly in small increments + intersecting: to cut across or through as at an intersection of a road
Points: 683