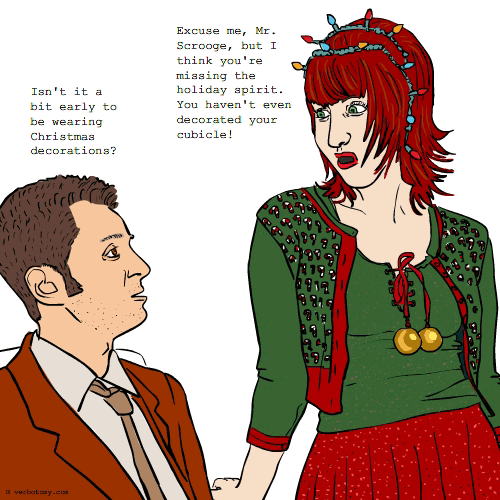 DEFINITION: n., A person so enamored with the holidays that they don't just deck their halls and home, but they also decorate their car, their cubicle, their pets, and themselves. v., To obsessively decorate according to seasonal holidays.
Decksess
Pronunciation: deck-sess
Sentence: Norma was anything but normal over the holidays. To say that she got into the holiday spirit was an understatement to say the least. In fact, she would decorate to decksess. Her house was so brightly lit with twinkie lights that it could be seen from the space shuttle, and her yard was bedecked and littered with moving reindeer, angels, blowup santas, Peanuts characters and huge, giant snow-globes containing Eeyore and Winny-the-Pooh. In her house she had a large Menorah next to her silver Christmas Tree and her Kwanzaa candles. She would come to work wearing reindeer antlers and a large string of twinkie lights around her neck. We found it amusing, then, when we asked her about her religious observance. "I don't believe in the religious stuff," she said, "I just like to decorate."
Etymology: deck: to decorate (as in "Deck the Halls") + excess: exceeding what is normal or sufficient
Points: 440