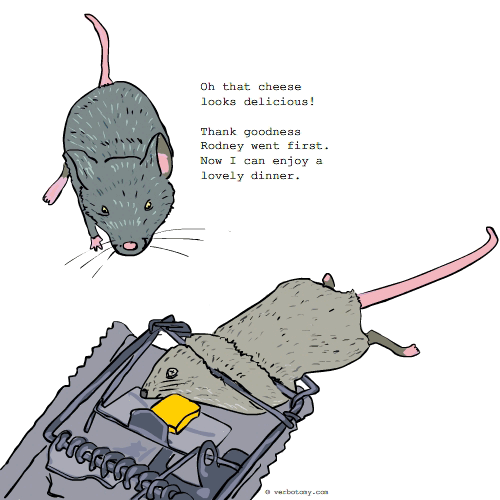 DEFINITION: v. To generously allow others to precede you in hopes that they will identify, reduce, and perhaps be eliminated by, the potential hazards. n. A gesture of courtesy which is really the lead-in to a trap.
Sacrifriend
Created by: artr
Pronunciation: sakrəfrend
Sentence: Like Mikey in the old Life cereal commercial, Jimmy discovered that his buds saw him as the sacrifriend. They would always \"let\" him go first when the situation was at all sketchy. When they allowed him to go first at jumping into the mountain-stream-fed lake, me had to use every ounce of self-control he could muster to smile and call out, \"Come on in, the water\'s fine\".
Etymology: sacrificial (an act of giving up something valued for the sake of something else regarded as more important or worthy) + friend (a person whom one knows and with whom one has a bond of mutual affection)
Points: 563