Verboticism: Voicemenumania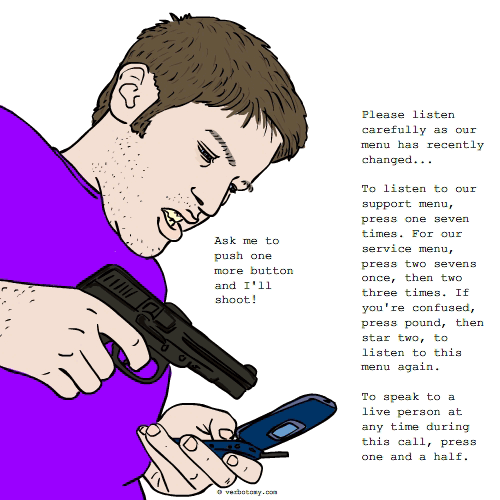 DEFINITION: v. To call a phone "help line" and spend 45 minutes pushing buttons and screaming at dumb voice-recognition system, before being automatically disconnected. n. A push-button or voice-activated phone menu system designed to irritate those who use it.
Voicemenumania
Pronunciation: Vois-men-u-man-e-uh
Sentence: Ted Textired was fed up with the voicemenumania of the length of time he spent to get to one person on his telephone!
Etymology: Voice:The sound produced by the vocal organs of a vertebrate, especially a human. (or computer generated voice)A sound resembling or reminiscent of vocal utterance. Menu:A list of available options. Mania: An excessively intense enthusiasm, interest, or desire; a craze. Voicemenumania:Taken in part from voice and menu to be voicemenu as in a recorded phone prompting and added mania to show the irration of using prompts to get through on a phone call that used to be simple... What happened to,"Hello this is____ may I help you?????"
Points: 758