Verboticism: Chameleonparkerbowles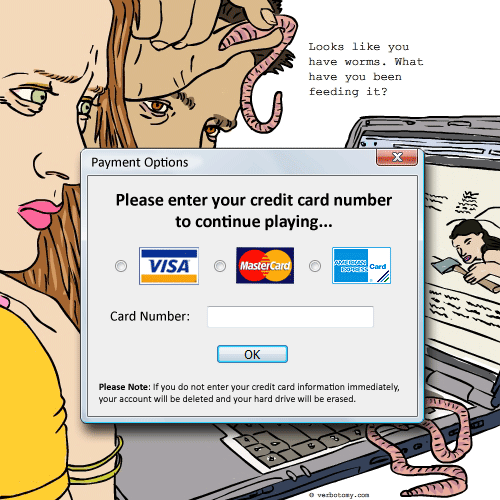 DEFINITION: n. A self-deprecating computer virus which is constantly changing its identity due to problems with its logic and/or self-confidence. v. To randomly change your tune, just so you can bug other people.
Chameleonparkerbowles
Pronunciation: kam eel leon par ker bolz
Sentence: Our computer at work has been hit by a new virus or worm. There was no warning beforehand...it just popped up Wednesday. It seems to change direction constantly...one minute all your e-mails disappear, next minute you get them back, plus ones that really belong in the director's computer. Oh well, it was not our fault the virus unloaded some very entertaining reading for us. Apparently the same rules forbidding personal use of the computer do not apply to the boss. Who knew he'd had a passionate, also married, girlfriend on the side for over 30 years? With graphic pictures? We've dubbed the virus a chameleonparkerbowles. It's going to be a royal pain for him when Mrs. Director finds out. Maybe this would be a good time to leverage this new knowledge vis-a-vis a raise to silence the troops? His mother is also going to crown him when she finds out. Without our raise, she too may get a mysterious e-mail, with pictures. And someday her Prints may come...
Etymology: Chameleon (a changeable or inconstant person; a lizard that can change to the colour of its surroundings) & Camilla Parker-Bowles (famous "other woman" who carried on a torrid affair with Prince Charles for over 30 years, even while he had married another. Since Diana, his ex expired, he has married his true love...why the heck didn't he do it in the first place??)
Points: 839