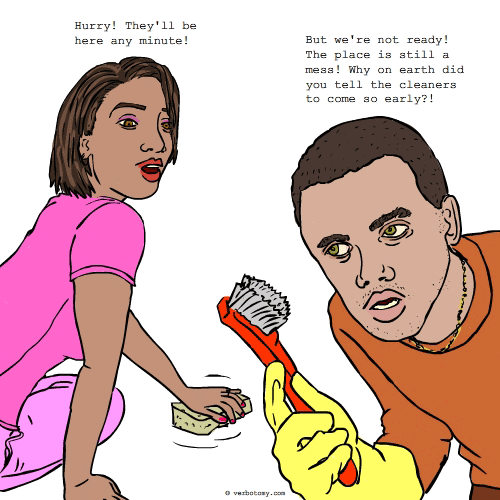 DEFINITION: n. Redundant and often clumsy preparations made before meeting with a "professional" -- like a hairdresser, dentist or cleaning lady. v. To prepare for a meeting with a professional by trying to hide the fact that you desperately need their services.
Presheen
Created by: artr
Pronunciation: prēshēn
Sentence: Despite the fact that she was of legal age doesn't mean that Martha can't also be a presheen. Before she takes her car to the car wash she details it herself. Before she goes to her goes to her regular dentist for an annual check-up she will go to another for a dental cleaning. Her children have been known to go into hiding if she mentions the need for a haircut.
Etymology: pre (before) + sheen (shine or cause to shine softly) a play off of preteen
Points: 812