Verboticism: Wifeswabbing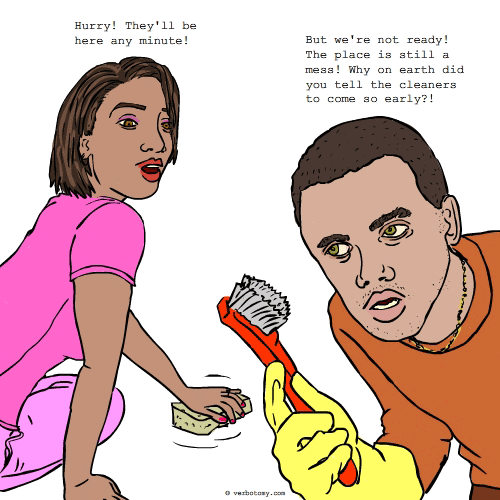 DEFINITION: n. Redundant and often clumsy preparations made before meeting with a "professional" -- like a hairdresser, dentist or cleaning lady. v. To prepare for a meeting with a professional by trying to hide the fact that you desperately need their services.
Wifeswabbing
Pronunciation: wyfe swab bing
Sentence: Marla was racing around cleaning every nook and cranny in her large home. She had been at it for 2 days and had swept, vaccuumed, dusted, scrubbed, washed and sanitized every surface in her home, until it sparkled. Her husband Jerry came home and was bemused to find her toiling away so hard. "Isn't the new cleaner coming this afternoon?" he asked puzzedly. "Yes, and I have to rush to finish all this before she gets here". "Why is our home getting such a thorough wifeswabbing when a cleaner is on her way? Isn't that redundant?" he asked innocently. "You don't understand...she was recommended by Simone Smith from the Country Club and I cannot have her finding us the way we really live and tattling back to the ladies at the Club about what slobs we are. It is a matter of home pride! Besides, at $200 an hour it would cost us about a grand every week to have her do the real work!" Jerry thought this over and then asked, "What can I do to help before she gets here?"
Etymology: Wife (female spouse) & Swabbing (cleaning/scrubbing with a mop) & play onm Wife Swapping (what swingers do...trading spouses for a night, wink wink, nod, nod)
Points: 842