Verboticism: Musclecardor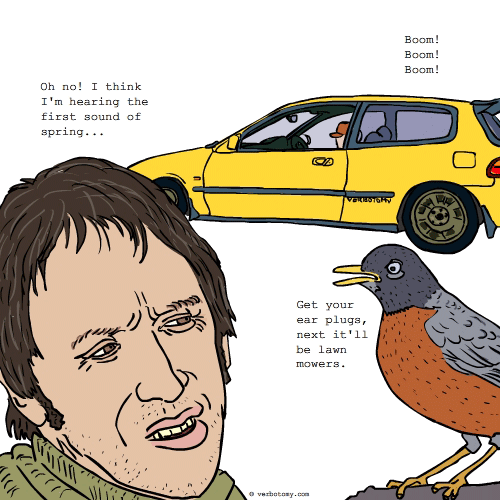 DEFINITION: v. To drive around in your car with the widows down and stereo blaring. n. The sounds emanating from the suped-up vehicles driven by strutting human males as they participate their annual spring mating rituals.
Musclecardor
Pronunciation: mus sel kar dor
Sentence: At the fist sight of spring all the young males in town display their musclecardor. They rev up their Challengers, Mustangs, GTO's, Barracudas, Corvette's, Chargers, Camaro's, Firebirds, T-Birds and Gran Torino's that they have spent all winter suping up with more gadgetry. The quiet neighborhoods then become NASCAR raceways and the sound of engines and stereos can be deafening. It's all part of the rites of spring to attract the attention of future mates, even if only for one night. Females seem to not need to participate in this noisy pastime, except as passengers. It is similar to the mating rituals of some birds, where the males puff up their feathers and strut to attract an interested female...like what grouse or peacocks do. These males drive around for hours, never leaving their precious vehicles, to ensure they have been seen and heard by all. They forget each spring of the side affects of sitting for hours revving motors. They waste a lot of expensive fuel and they can become afflicted with hemi-roids!
Etymology: Muscle Car (a flashy car with a big noisy engine, designed to look like a sports car; often symbolic of other macho attributes...) & Ardor (feelings of great warmth and intensity;a feeling of strong eagerness (usually in favor of a person or cause) Encarta® World English Dictionary [North American Edition] © & (P)2009 Microsoft Corporation. All rights reserved. Developed for Microsoft by Bloomsbury Publishing Plc.
Points: 671