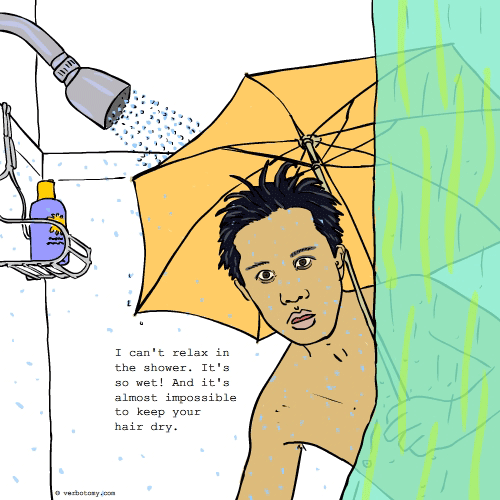 DEFINITION: v. To take a really long, relaxing, shower; so long in fact, that you loose concept of time. n. A prolonged shower that uses up a whole tank of hot water and leaves the bather looking like a boiled raisin.
Wetternity
Pronunciation: wet tern atee
Sentence: Everyone in the household had to get up earlier now. This was so they could get to use the house's only bathroom before Kara, the teenager, got into it. When she was in there, it seemed like a wetternity to any poor soul waiting their turn. Her mother always wondered that before she turned 13, Kara simply splashed water on her face and ran out the door and had to be reminded to shower or bathe, at least every other day. Since the fateful day she turned into a hormone-on-wheels, she took endless showers in the morning and after school and a long bath at night. The irony was that although she alone was responsible for the surge in water consumption in her home, she belonged to the school's Water Conservation Club. Wait until she has to pay the utility bills, often grumbled her father. This was the same girl who was staunchly anti-litter in public, but who's bedroom carpet had not been seen in years for ankle-high debris. Teenagers, go figure!
Etymology: Wetter (more soaked in liquids, especially water, than something else) & Eternity (for all time, forever and a day; time without end; a seemingly endless period of time)
Points: 881