Verboticism: Fiscalpredaterminus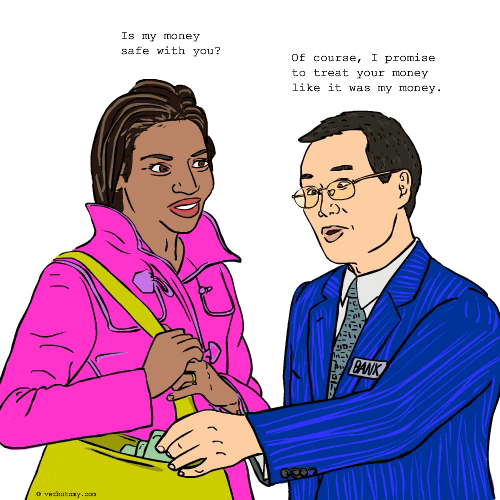 DEFINITION: n. A bank which pays huge salaries to its executives who bet their customers' money on dumb investments, risky loans, and the inevitable government bail-out. v. To lend, spend, and mismanage a bank into bankruptcy.
Fiscalpredaterminus
Pronunciation: FISS-cull-pred-uh-TERM-ih-nuss (fiscalpredaterminate)
Sentence: Chairman Moe bought his little bank at a fire sale in the 1980's and watched it grow into a financial ziggurat through astute aquisitions, lavish lobbying and deregulation. After stashing his nestegg in the Cayman Islands, Moe watched with detachment as his friendly neighborhood bank became a FISCALPREDATERMINUS - a final resting place for his depositor's hard earned money. As the pyroclastic flow of bad loans and foreclosures swept the monetary madhouse, Moe relaxed on a sandy beach, sipping tropical beverages from coconuts and playing idly with the little paper umbrellas. Next time he would have to increase his executive compensation.
Etymology: FISCAL+PREDATor+TERMINUS= FISCALPREDATERMINUS.....FISCAL:of or relating to financial matters;Latin fiscalis, from fiscus basket, treasury.....PREDATOR:one that preys, destroys, devours or plunders,a mode of life in which wealth is primarily obtained by the killing and consuming of lesser institutions or corporations;Middle English predacion, from Latin praedation-, praedatio, from praedari.....TERMINUS:a final goal,a finishing point,a route leading ultimately to death,being in the final stages of a fatal disease;Latin terminalis, from terminus.
Points: 818