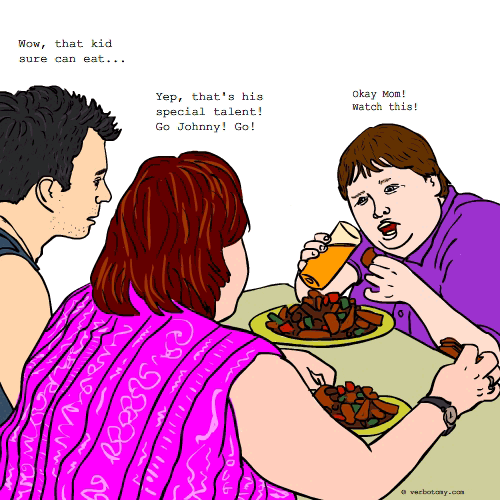 DEFINITION: n., A "talent" for which an individual takes a great deal of personal pride, even though it is just a common, mundane skill that almost everyone can do. v., To take pride in a special talent which in fact is not special at all.
Nackworst
Pronunciation: nak worst
Sentence: Little Eddie's Mother, Edna, always doted on him. She saw everything he did as a special talent, even though most other people could do it much better. The doctor told her to control what Eddie ate, since he was growing more wider than taller every year. But how could she, when the child had an absolute gift for cleaning up his plate (and other peoples') to make any mother or cook feel proud? Little Eddie's Nackworst was pigging out and as she always said, "Losing was for losers!"
Etymology: Nack (anyone else has a Knack,a special way of doing something, but Eddie was special!) & Worst (not the best at something; the weakest effort or poorest achievement one is capable of) & rhymes with Knackwurst (short thick highly seasoned sausage)
Points: 719