Verboticism: Buffoonokudos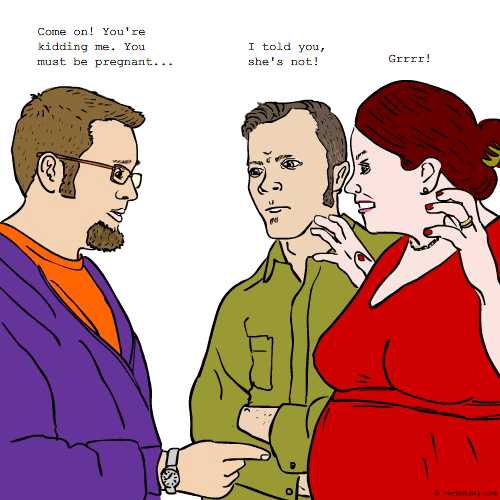 DEFINITION: v., To enthusiastically congratulate a woman on her pending motherhood, only to be told that you are mistaken. n., The dashed expectations and pregnant silence that follows mistaken congratulations.
Buffoonokudos
Pronunciation: buf-FOON-uh-KOO-dose
Sentence: Timmy the Beard's legendary lack of social skills almost caused his death when he offered his heartfelt BUFFOONOKUDOS to Portly Peggy on her advanced pregnancy. His lack of sensitivity and total immunity to any form of embarrasment caused him to argue the point for several minutes, much to the horror of those present. He was hustled away in the nick of time, and after the application of several shots of Yugolavian plum brandy, was finally convinced of his near-fatal BUFFOONOKUDOS, but in the end, it only added to his legendary status as the life of the party.
Etymology: BUFFOON+KUDOS=BUFFOONOKUDOS............BUFFOON:a gross and usually ill-educated or stupid person,a ludicrous figure : clown ;Middle French bouffon, from Old Italian buffone.....KUDOS:praise given for achievement,fame and renown resulting from an act or achievement;Greek kydos.
Points: 662