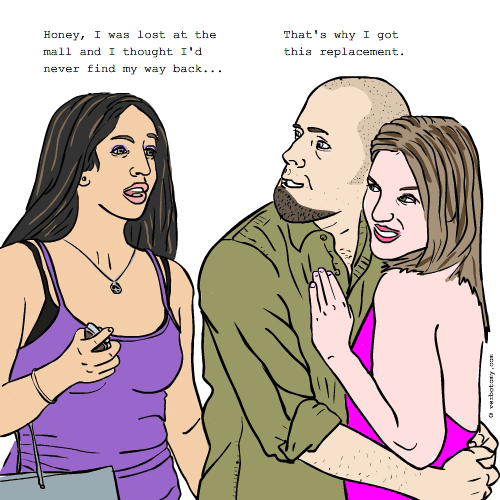 DEFINITION: v., To find a lost item immediately after purchasing a replacement. n., An item which is lost and cannot not be found unless a replacement is purchased.
Suckscessor
Pronunciation: suk ses sor
Sentence: When George's wife, Gina, had disappeared on a flight to Australia 7 years ago, he had spent ages looking for her and grieving. When he was finally convinced she had perished in the plane crash, along with the other passengers, he started to move on with his life. He collected on her life insurance and fell in love with the pretty insurance lady, Alice. At their marriage ceremony, when the audience was asked who objected to their wedding, imagine his surprise when Gina turned up! Turns out she had spent those 7 years on an uncharted island. How was he going to explain he had spent most of the insurance money on his wedding to her sucksessor!
Etymology: Sucks (slang:something which makes you unhappy or which disappoints) & Successor (a thing or person that immediately replaces something or someone)
Points: 656