Verboticism: Perpetulagripist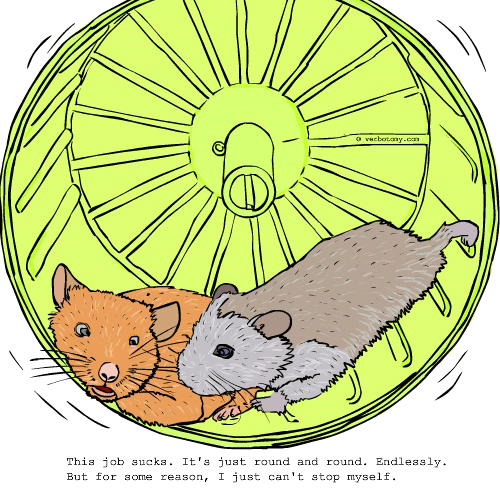 DEFINITION: n., A person who diligently and persistently complains about their work. v., To enjoy bellyaching about your job so much that you would never consider quitting.
Perpetulagripist
Pronunciation: purr-PETCH-yoo-luh-GRY-pist
Sentence: Sure, I'm guilty. We're ALL guilty...of coming to work every day to pound out reams of meaningless drivel that nobody ever reads seriously. Sitting thru pointless meetings and concocting vapid "vision statements" which are lies to begin with and kowtowing to semi-illiterate deans and directors who make five times as much as we do and only delegate their imaginary authority while handing out bonuses to their lackeys who drone on and on about their "proactive" approach to multiculturalism and pseudotechnical astuteness. This place makes me want to puke. If the coffee wasn't so good, I'd quit tomorrow and THEN they'd see how easy it is to deal with students who don't speak a word of engrish and have the collective IQ of a bag of hammers. I'm going to the donut shoppe. Do you want me to bring you anything? What do you mean, shut up? Sick of hearing WHAT? That this place is a totalitarian matriarchy run by an illiterate vice president? What do you mean, I'm irritating? What the hell is a PERPETULAGRIPIST? Is that supposed to be an insult? I'm telling the boss that you Verbotomize when you should be working on that mission statement. It smells funny in here.
Etymology: PERPETual+petULAnt+GRIPe+ist= PERPETULAGRIPIST perpetual:continuing forever, everlasting,occurring continually ;Middle English perpetuel, from Anglo-French, from Latin perpetuus uninterrupted.....petulant:insolent or rude in speech or behavior,characterized by temporary ill humor;Latin or Middle French; Middle French, from Latin petulant-, petulans; akin to Latin petere to go to, attack.....gripe:to complain with grumbling; Middle English, from Old English grīpan; akin to Old High German grīfan to grasp, Lithuanian griebti.....ist(suffix):one who has elevated something to a high level or artform.
Points: 608