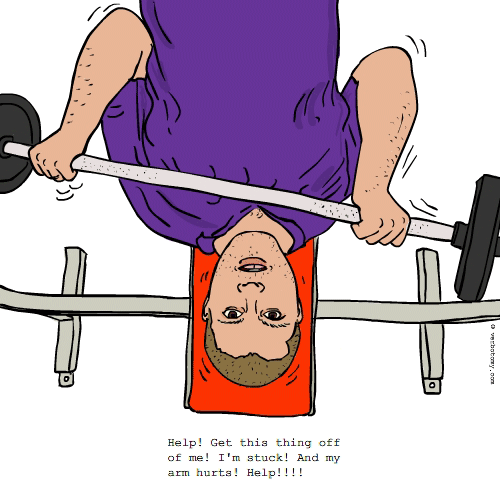 DEFINITION: v. To return to the gym in order to get back in shape, only to over-do-it and injure yourself. n. An injury which is the result of an overly ambitious exercise program.
Gympairment
Pronunciation: /jim-PARE-ment/
Sentence: Nathan was determined to be able to squeeze himself into his old Speedo bathing suit by summer, and he returned to the gym after a five year hiatus. But, as out-of-shape as he was, he gave himself a gympairment within five minutes of beginning his workout. He was gymbarrassed and felt like a gymposter in front of all the bodybuilders who had to help carry him out to his car. He was a total gymbecile for thinking he could still bench press his body weight like he used to.
Etymology: Gym - athletic facility equipped for sports or physical training (short for gymnasium; from Greek, gymnásion "gymnastic school") + Impairment - damage that results in a reduction of strength or quality (from Middle English, empeiren "to make worse")
Points: 647