Verboticism: Illedigitimate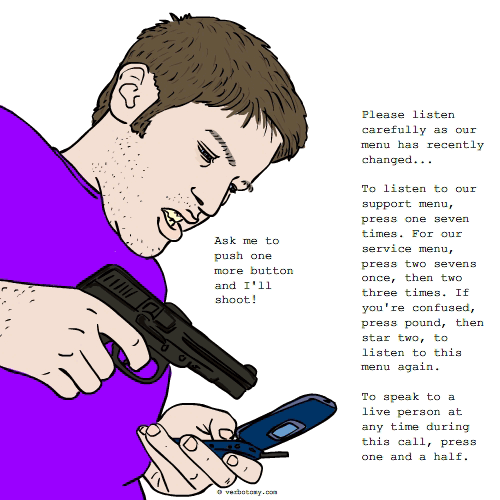 DEFINITION: v. To call a phone "help line" and spend 45 minutes pushing buttons and screaming at dumb voice-recognition system, before being automatically disconnected. n. A push-button or voice-activated phone menu system designed to irritate those who use it.
Illedigitimate
Pronunciation: ĭl'ĭ-dĭ-jĭt'ə-mĭt
Sentence: The illedigitemate "help" menu Bjorn reached when he called AT&T was all but helpful. After wearing a blister on his button finger and being irritated to the point of requiring three double gin-and-tonics he hung up and found the answer he needed in the help menu on his cell phone.
Etymology: meld of 'illegitimate' and 'digit' (finger)/'digital.'
Points: 743