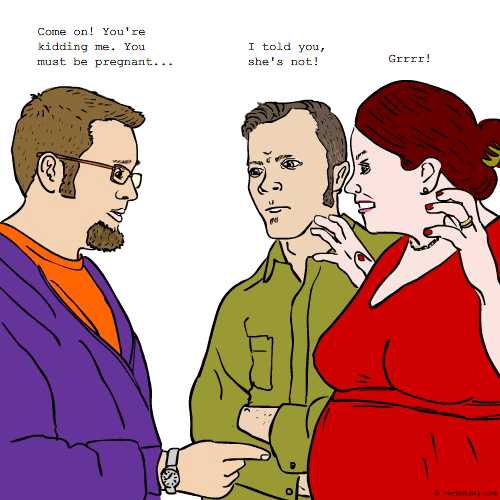 DEFINITION: v., To enthusiastically congratulate a woman on her pending motherhood, only to be told that you are mistaken. n., The dashed expectations and pregnant silence that follows mistaken congratulations.
Mummawrong
Pronunciation: muh m - ma-RONG
Sentence: Bob's chances for a Christmas bonus looked rather bleak after his momologue, congratulating his boss's wife on her impending motherhood, turned to profound embarassment; when she, without a pregnant pause, told him that he was mummawrong; and that, furthermore, both she and her husband were dinks- and intended to stay that way!
Etymology: Conflation of MUMMA, (mamma or momma), an informal word for mother & WRONG: not correct, in error. MOMOLOGUE (based on monologue) length speech about mothers and mothers-to- be.
Points: 344