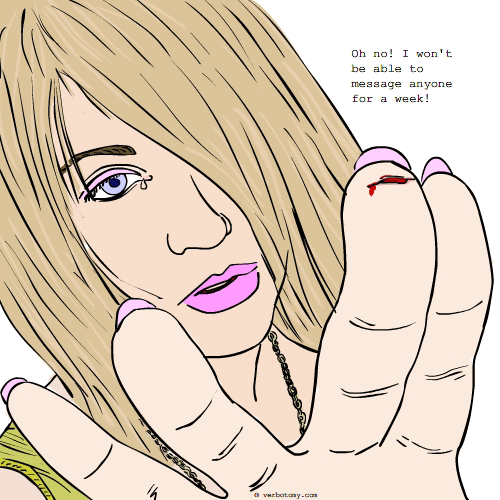 DEFINITION: n., A pesky but persistently painful, and seemingly incurable paper cut, which simply refuses to heal. n. To cut or injure a "high use" body part, like a fingertip, knuckle or tongue.
Already Voted
Vote not counted. We have already counted two anonymous votes from your network. If you haven't voted yet, you can login and then we will count your vote.
---
Awkwound
You still have one vote left...
Created by: rebelvin
Pronunciation: linger+finger+injury
Sentence: I tried to keep from shaking hands since somehow I had managed to lingerfingerinjure my right thumb.
Etymology: linger+finger+injury
Created by: Jabberwocky
Pronunciation: cut/stray/shun
Sentence: Sally felt deep cutstration whenever she tried to unpick the stitches she'd so cautiously sewn. Her part time job shelling shrimp (crustaceans) didn't help.
Etymology: cut + frustration + crustacean
----------------------------
COMMENTS:
Bring out your dead. - metrohumanx, 2008-09-03: 08:46:00
Cutstration is dangerously close to.....nevermind! It makes my toes curl up just to think of it. - metrohumanx, 2008-09-03: 08:54:00
Ouch! Interesting blend - OZZIEBOB, 2008-09-05: 01:47:00
----------------------------
Created by: wordslikevenom
Pronunciation: pap-nip
Sentence: James rolled his eyes as Henrietta stuck out her sore finger, rolling the skin tip backwards and forwards. The papnip's mouth opened and closed to her squeaky high-pitched ventriloquism, "Hello, James ... hello .... hello".
Etymology: Pap(er) - thin flat material which is made from crushed wood. Nip - to bite.
Created by: frenchprof
Pronunciation:
Sentence:
Etymology:
Created by: Stevenson0
Pronunciation: uh/pang/dij
Sentence: A pianist's worst nightmare is to suffer an appangdage just before an important performance.
Etymology: APPANGDAGE -noun - from - APPENDAGE (a part attached to the body, such as a finger, arm, or leg) + PANG (a sharp pain, or physical distress)
Created by: artr
Pronunciation: dij-i-stey-shuhn-ouee
Sentence: Sharon works for a company that prints personalized writing paper. Handling paper all day long as she does, it is very common for her to have a digistationowie. She's in a "Catch 22" dilemma. She would love to see the world go paperless to save her fingers but that would put her out of the job she was hoping to retire from.
Etymology: digit (a finger or toe) + stationery (writing paper) + ow (an expression of sudden pain; owie: a cut , scratch or burn that causes that pain)
Created by: metrohumanx
Pronunciation: MY-crow-BIRD-uhn
Sentence: Dr Desmond's waiting room was crowded with the usual assortment of whining hypochondriacs, industrial accident victims, bursting lacerations and a gentleman who lost a crowbar fight at the local pub. When Molly explained her MICROBURDEN to Desmond, he was strangely unsympathetic. Using a scanning electron microscope, the doctor finally located Molly's invisaffliction, and predictably prescribed Motrin and bedrest. Molly explained that her stinging woundlet was like a tiny little albatross that nagged her and made life intolerable, but Desmond inexplicably refused to administer morphine for such a piddling complaint. Molly would just have to face life with her MICROBURDEN, and use this ugly incident as a sentence to be savored on the website..."Verbotomy".
Etymology: MICRO+BURDEN=MICROBURDEN.....MICRO: prefix meaning tiny or trifling.....BURDEN: something oppressive or worrisome; Middle English, from Old English byrthen; akin to Old English beran to carry.....alternatatively: MYCROBURDEN
----------------------------
COMMENTS:
http://www.quackwatch.org/ - metrohumanx, 2008-09-03: 08:44:00
Yes- I know it's a bit on the simple side...but I was distracted by Molly's lavender lipstick and tiny tear. - metrohumanx, 2008-09-03: 09:08:00
----------------------------
Created by: artr
Pronunciation: KRON-i-kut
Sentence: Nothing seemed to work. Barry tried Band-aids, antiseptic ointment and iodine. He just couldn't get the cronicut on the tip of his tongue to heal.
Etymology: Cronic (persistent, long-standing, long-term; incurable) Cut (make an opening, incision, or wound)
----------------------------
COMMENTS:
Good word - OZZIEBOB, 2008-09-05: 01:45:00
----------------------------
Created by: porsche
Pronunciation: kron/ic
Sentence: Her paper cut was diagnosed as chronick.
Etymology: chronic + nick
Created by: Stevenson0
Pronunciation: a/pen/jur/ee
Sentence: A pesky, irritating appendjury on his index finger makes playing the piano an excruciatingly difficult task.
Etymology: appendage + injury